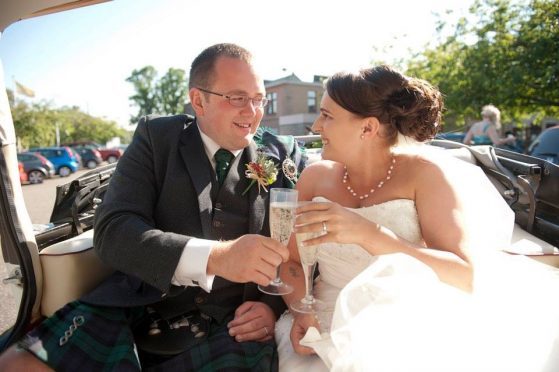 A distraught wife has appealed for help to find her wedding ring after losing it in Dundee city centre.
Penny Scoular was taking the diamond-encrusted ring to Beaverbrooks to be resized on Sunday, but it fell out of her purse somewhere along the way.
The 30-year-old care assistant suspects someone has pocketed the piece of jewellery and put out an appeal pleading for its return.
Penny, from Montrose, said: "I lost it some time between 1pm and 1.30pm on Sunday.
"I had it in my purse and the only time I opened it was to pay for a Christmas card for my husband in Clinton cards.
"Then when I got to Beaverbrooks I discovered it was gone.
"The staff in Clinton's couldn't have been nicer, they helped me look all over the shop and were really helpful.
"Unfortunately it was nowhere to be seen and I suspect a member of the public has lifted it.
"There's no way it can just disappear otherwise, in that short space of time.
"I am absolutely gutted and heartbroken, it's a horrible feeling to lose something like this.
"If somebody has it then I would be so grateful to get it back, especially at this time of year."
Penny also issued a plea on Facebook for the ring's return, which has been shared nearly 600 times.
Penny and her husband Marc were married in 2014 with plain rings, which they later swapped for more elaborate versions.
Due to her small hands, Penny said the ring is unlikely to fit many people.
She added: "I have almost child-sized fingers.
"My guess is that if someone has it they may try to sell it, so I've notified police and shops like Cash Converters and Cash Generator to be on the lookout.
"I'm also checking Gumtree and other selling sites.
"I don't actually know the value of the ring, as my husband bought it and he doesn't want to tell me.
"But it has diamonds in it so it would be expensive and hard for us to replace."
Police Scotland confirmed they recorded the incident in their lost property system.
If you know where Penny's wedding ring is, call The Courier on 01382 57236 and we will return it to her.