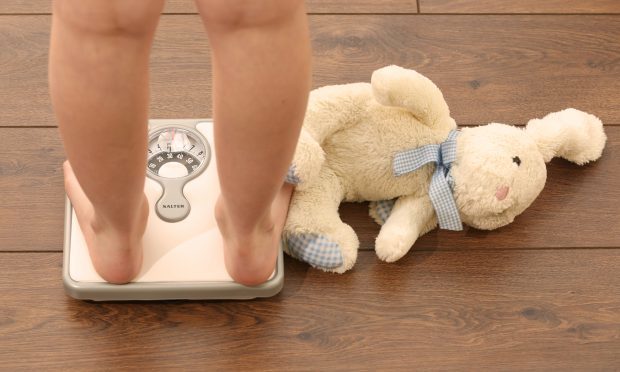 The early signs of obesity in toddlers are being missed because of the Scottish Government's refusal to follow World Health Organisation guidelines, say campaigners.
Children do not have their height and weight officially recorded in Scotland until they enter primary school, which the National Obesity Forum say is too late.
It means thousands of children are putting on weight undetected and early opportunities to help them are lost, its chairman Tam Fry said.
WHO recommends that children and infants under the age of 5 have both height and weight measured, but the Scottish Government does not record height until children are in P1.
Ministers are sticking to that policy in their draft obesity strategy, which is out for consultation.
Stark figures published on Tuesday show the risk of 5-year-olds becoming obese or overweight is at its highest since records began.
The official data revealed that Tayside and Fife children are in more danger of the health scourge than their peers across the whole of Scotland, which has some of the worst obesity levels in Western Europe.
Mr Fry said the health visitor pathway, which sets out early years intervention, "omits any height measurement until P1".
"Holyrood has confirmed to the forum that it has no inclination to measure height until a child enters school," he added.
"This means that the pathway is in no position to determine whether a weight measurement by itself is an accurate indication of normal body mass index [BMI] or overweight/obesity.
"As a result of this the first signs of excess weight will be missed – with the probable result that thousands of Scottish children will continue to put on weight unrecorded."
He called on Scotland and the rest of the UK to follow the Amsterdam model, where children have their length recorded aged 1 and their height measured every year after that.
Since 2013, the Dutch city has seen childhood obesity rates fall by 12% – and 18% in deprived areas.
A Scottish Government spokesman said that they are introducing more child health reviews, which consider "development, nutrition and growth" but do not calculate BMI.
They are carried out at 27-30 months, with the scheme set to be extended to those at 13-15 months and 4-5 years.
"We want to create a whole nation approach that improves Scotland's weight and diet and our consultation launched earlier this year outlines measures designed to help people make healthier choices, including a range of measures to change the food environment and improve children's diets, such as rebalancing promotion of products high in fat, sugar and salt, and tackling advertising," the spokesman added.
"The consultation also includes making effective use of the role out of the health visitor pathway to engage families and where appropriate offer support."
For more of our special focus on obesity, click here