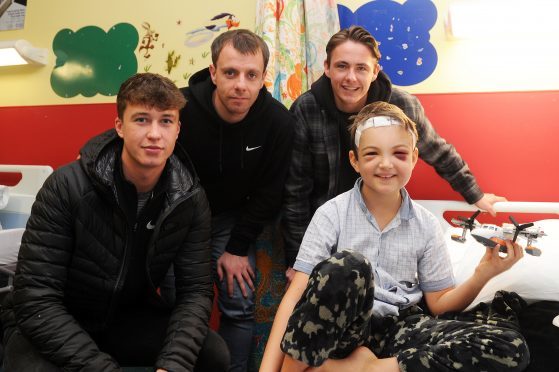 Spirits were lifted at Tayside Children's Hospital when stars from Dundee FC dropped by to spread some Christmas cheer.
A host of first-team players including striker Faissal El Bakhtaoui, midfielders Paul McGowan and Scott Allen, as well as defender Cammy Kerr visited the children's medical ward, surgical ward and outpatient clinics, much to the delight of both staff and patients.
The players signed autographs and posed for photographs while handing out presents to the youngsters.
Nine-year-old Marcus Summers received his second present in a matter of days, with Dundee United having visited the ward on Tuesday.
He said: "It has been an exciting couple of days. Dundee United gave me a mascot teddy when they visited and Dundee gave me a Lego set."
His mother Karen said: "What an authentic thing for the clubs to do.
"It gives him such a boost so we really appreciate it.
"I want to say a big thank you to all the players for coming along."
Club vice-captain Cammy Kerr said the annual visit is an important part of the club's role in the community.
He said: "It's great to be able to visit Ninewells and spread some Christmas cheer to the patients in the children's wards.
"It's important for us as a club to be at the heart of the community and put others first at this time of year."
Play specialists Yvonne West and Una Paton said the visit was just what the kids needed.
Yvonne said: "It really is a fantastic time for the players to come. It's not nice to be in hospital especially at this time of year.
"The donations make it just that little bit easier. It does make all the difference."
Una added: "We really look forward to our annual Christmas visit from the Dundee FC players.  It really helps to lift the kids' spirits and takes their mind off being in hospital for a while.
"On behalf of all the patients and staff in Tayside Children's Hospital, I'd like to thank the team for taking the time to come and brighten up our day."