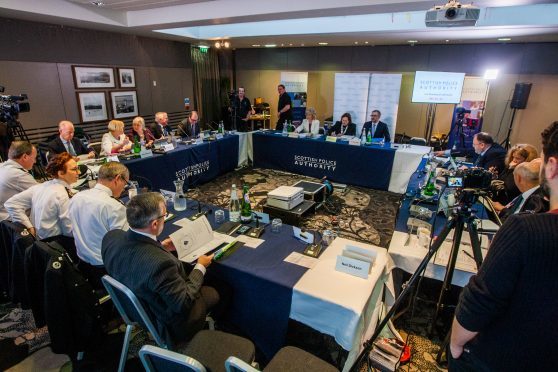 Police chiefs have denied they have plans to begin routinely arming officers in Scotland.
Speaking at a meeting of the Scottish Police Authority board at the Apex Hotel in Dundee, Deputy Chief Constable Johnny Gwynne said changes to the way armed police are deployed by the force is not the start of a move to arm all police.
He told the board: "We are not about the routine arming of police. We have no desire to see everybody carrying a self-loading pistol on their hip."
The force wants to relax the rules around the deployment of armed police.
Police in armed response vehicles (ARVs) are currently only allowed to attend incidents where there is a threat to life or those they happen across on patrol but the new rules would allow them to attend any incident where there is a need for speed or to assist a vulnerable person.
Police Scotland also wants to train an additional 500 officers to use Tasers, with potentially more in the future.
DCC Gwynne said: "This is to make better use of our armed response capability. Already we deal with matters of threat to life but this is about how we use these officers better in a public protection sense.
"There is an opportunity to make better use of these officers in terms of local need."
He said officers will continue to carry their weapons rather than store them in a locked box on the vehicle as it would take too long to access the weapons if they were needed in a crisis.
He said the recent London Bridge terror attack had been over in two minutes and that it would take around eight minutes for officers to get their weapons from a secure box.
Regarding the increased use of Tasers, Assistant Chief Constable Nelson Telfer said the number of attacks on officers had risen over the past year and use of the weapons, which are classed as firearms, would improve officer and public safety.
He added that people hit with a Taser charge would suffer less harm than those who had to be subdued with a truncheon.
Police Scotland also intend to buy two advanced drones at a cost of £50,000 each, which will be stationed in Inverness and Aberdeen.
Although these would most often be used to help search for missing people, ACC Telfer admitted they could be used "in extremis" for surveillance.
Tuesday's meeting of the SPA board was the first to be chaired by Susan Deacon, who was appointed two weeks ago.
The former Scottish Government health secretary said she wants to make the SPA as "outward facing" as possible so Police Scotland can explain their actions to the public and address any concerns that may have been raised.