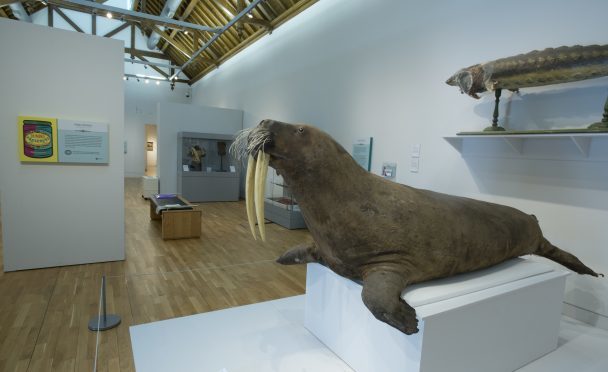 A giant stuffed walrus on display at the McManus Museum in Dundee has been officially named after a public vote.
Voters have named the three-metre long one-tonne female Marmalade due to the city's long association with the preserve.
The large flippered marine animal was caught by Dundee whalers when they ventured into Northern Canada around 1878.
It was donated by the captain of the SS Arctic and is now on display as part of the museum's Dundee Preserves exhibition.
It was previously on display with other polar wildlife in the city's former Dudhope Museum.
The museum had been collecting suggestions for names since the exhibition opened in June.
Curators selected a shortlist of seven earlier this month which was then put to a public vote to choose the final name.
Marmalade took 35% of the vote, with Whonda second with 20%. Other names on the shortlist were Gertrude, Pricilla, Florence, Daisy and Evangeline.
Gareth Jackson-Hunt, Museum Services Section Leader said: "Naming Marmalade has been great fun.
"She has been a very popular part of our Dundee Preserves exhibition and I would encourage everyone to get along and see her before the show finishes on January 7 2018.
"Dundee is world famous for its association with jams and marmalade so it's fitting that we have a name to reflect that connection."