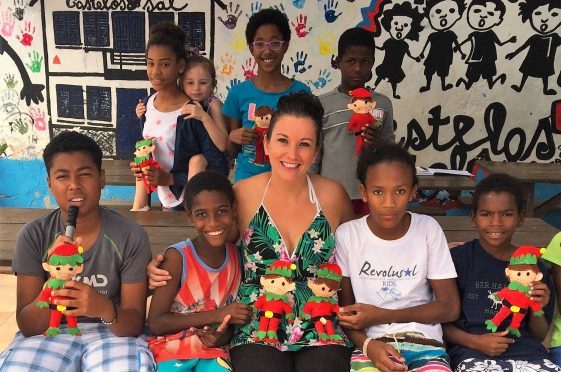 A Dundee mother who became a model at the age of 33 has delivered the takings of a years' worth of charity fundraising to Africa.
Elaine Harris, who won the Top Model UK competition six months after giving birth to her daughter, has travelled to Cape Verde – situated almost 400 miles off the coast of Senegal – as part of her work with a children's charity.
The Castelos do Sal charity helps more than 75 children in the small country who are aged between six and 12-years-old.
Castelos do Sal provide a safe place for the islands' youngsters, offering them somewhere to eat, wash and learn.
The average monthly wage in the country is as little as £100 and Elaine's work funds the children's arts and crafts activities, as well as provide them with small Christmas presents.
Elaine and her family spent the last 12 months raising thousands of pounds for the organisation before travelling to the archipelago to deliver the festive treats.
Ms Harris organised fundraising appeals through her social media page, as well as taking part in a gruelling 1,000 mile cycle from John O' Groats to Lands End earlier this year.
The 36-year-old first heard about the charity after returning to the island country she once called home.
She said: "I am amazed by people's generosity. I was able to raise enough money to bring large sweetie boxes for each child, lots of fun games and loads of craft goods.
"As well as the Facebook appeal, Mattocks primary school in Wellbank organised a Smartie tube appeal where families filled their cartons with loose change which raised enough money for 58 boxes.
"Home Bargains in Dundee reduced the price of Make Your Own Elf kits and the Wellbank Village hall donated enough money to buy a kit for each of the 77 children too, in addition too crafting materials to make Christmas cards.
"Thomas Cook also very kindly flew the charity boxes out to Cape Verde for free.
"My daughter and I are currently out in Cape Verde working with the children and looking forward to Christmas."