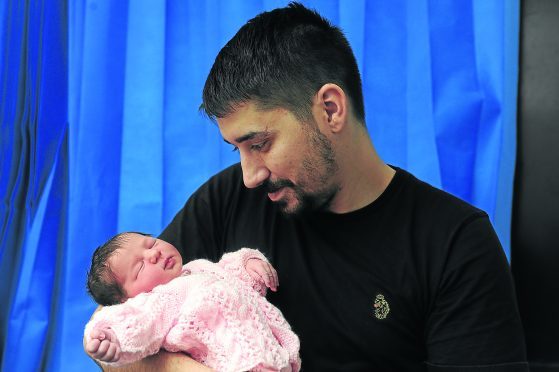 A Dundee dad has revealed how he sprung into action to deliver his baby daughter by the roadside – before blocking the umbilical cord with his own shoelaces.
Stuart Slessor, 31, had only just returned to his Blairgowrie home with wife Caroline, 32, when she told him she could feel the baby coming.
The couple barely made it to the end of the road before Stuart was forced to leap from the driver's seat and deliver their daughter by the roadside.
Holly Faith Slessor was born 6lb 15oz at around 2.35am – making her the first Christmas baby born anywhere in Tayside.
But when a 999 operator told them she could not hear the distinctive cry of a newborn, Stuart was again forced to act as fears grew about the baby's breathing.
With no sharp objects in the car and no other options available, the call handler told Stuart to remove his shoelaces and tie them tightly around the umbilical cord.
"As soon as I tied it, she started crying," Stuart said.
"We could hear her breathing but the operator was worried and said we had to cut it straight away, so it was a real relief.
"The ambulance came about 25 minutes later but honestly, it felt like forever – it's certainly a Christmas we'll never forget."
The couple now plan to recuperate at home with their 15-month-old son, Aaron, and said they are looking forward to introducing him to his new sister.
Meanwhile, one little boy was so excited to share a Christmas Day birthday with his aunt Victoria, he decided to arrive more than a week early.
Cal Lamont Beaton was born at 10.37am at Ninewells Hospital, weighing 6lb 13oz.
Mum Deanna, 22, and dad Callum, 19, both from Dundee, said they were "absolutely delighted".
Another Dundee couple, Arek Dziurzynski and wife Maria, who are originally from Poland, welcomed baby Mireia at 10.18am.
The name, which has Catalan origins, means 'to admire'.
One of the first babies to be born at Victoria Hospital in Kirkcaldy after midnight was a little boy to parents Stacey MacMillan and Jed Edgar, both 27, from Cowdenbeath.
The couple have yet to pick a name for their bundle of joy, who was born four weeks early at 2.22am on Christmas Day, weighing 5lb 14oz.
Another early arrival was for Arbroath couple Craig Phillip and Brooke Mollison at Arbroath community maternity unit.
At 12.18pm, the couple's first child, Tilly, arrived, weighing in at exactly 6lb – having been due on January 18.