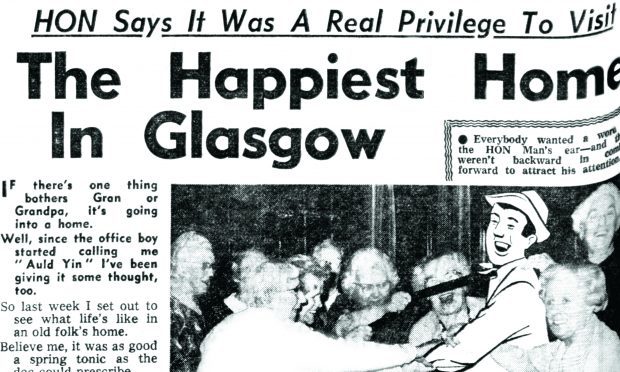 A former Sunday Post "HON man" has died aged 78.
Brian Wilson wrote the popular Holiday on Nothing feature in the DC Thomson newspaper, where he worked for 48 years.
As the Hon Man, he was anonymous and he was represented by a cartoon instead of a photograph in the newspaper. In real life, Mr Wilson travelled throughout Britain and further afield, meeting people and exploring tourist attractions.
Born in October, 1939, in Dundee's Clement Park Nursing Home, he was brought up by parents Peter and Lily at Alpin Terrace.
He attended Rockwell Primary School and left there as Dux, going on to Harris Academy.
The only job he ever applied for was with DC Thomson as a trainee journalist.
He was appointed to the Sunday Post and retired after a long and eventful career in October 2004.
In an essay about his life that he penned for family before his death, Mr Wilson said the most memorable events in his career were two trips to Australia and Hollywood.
He wrote: "After a few days in Sydney I flew up to Darwin then gradually made my way down through the Northern Territory to Alice Springs.
"From there it was to Coober Pedy where I lived in a cave whilst mining for opal! Then down to Adelaide and eventually home via Fiji and Hawaii.
"Hollywood was less demanding. I even earned $18 a day working as an extra on the film Two Minute Warning with Charlton Heston, David Janssen and co.
"There were three amazing days spent with the pipes and drums of the Black Watch — most of them sadly a blur!"
The Boys Brigade played a large part in Mr Wilson's life and he served for many years as an officer.
He was also a self-proclaimed "sports nut" and dabbled in football, badminton, table tennis, squash, cricket and tennis.
Mr Wilson met his wife Olive through a friend and their courtship developed mainly in the JM Ballroom.
They were married in St Marys Parish Church by Rev Dr Hugh Douglas –then the Queen's Chaplain in Scotland.
Their daughter Nikki was born on October 11, 1967.
Mr Wilson is survived by Olive, Nikki and grandchildren Lewis and Kirsten.
Nikki said: "He was an amazing dad and grandpa who will be sorely missed by us and all those who enjoyed his company-especially his friends in his local-the Occidental.
"Dad and I had some great trips-from Berne in Switzerland to watch Scotland play football to a day trip to Wimbledon."