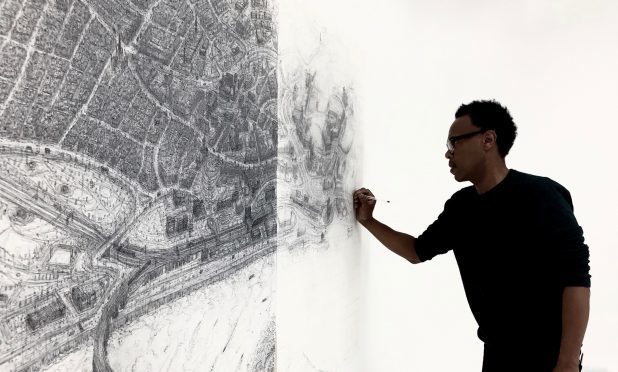 A sketch artist is on the verge of completing a gigantic aerial drawing of Dundee.
The creation is part of a "country-wide walk" being undertaken by Carl Lavia, who is visiting the 69 cities across the UK on a mission to sketch them all.
At the end of the project each drawing will be displayed in the city it represents in a nation-wide exhibition.
Carl, who is working with project partner Lorna Le Bredonchel, said the Dundee sketch was his biggest yet, at 2 metres by a metre – and probably the largest of its kind in existence.
The London-based artist explained: "I've always enjoyed sketching cities, ever since I was a child.
"Initially I used my imagination to draw fictional cities, then I moved on to real cities.
"It would have been easy to just do the big, famous places  like the city centres of London and New York, but I wanted to show the diversity in the UK.
"The project grew from there and I decided to sketch every city in the UK, including all their suburbs."
Although Dundee is a relatively small city, its sketch has turned into the biggest one of them all.
Carl said the scale was a measure of the city's character.
He said: "I found Dundee quite fascinating.
"It was one of the cities I'd never been to, so I had to learn about it from scratch.
"I came up to visit and did some mapping of the city and visited various places.
"The city has quite a rich history and a lot of diversity between different parts of it."
Each highly detailed drawing takes around six weeks to finish and he expects it will take another six years before the overall project is completed.
A venue for displaying the Dundee drawing has yet be decided.
For updates on the project, visit https://www.sketchnthecity.com/