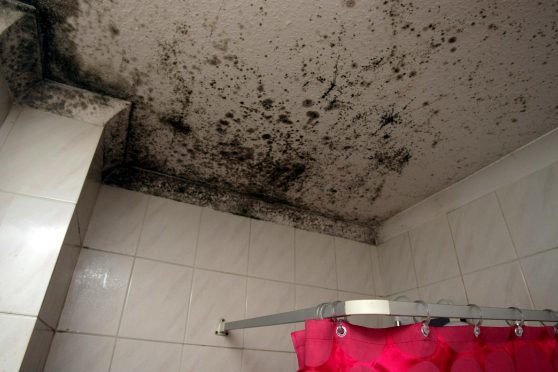 Dundee City Council have been criticised after council house inspections for damp fell from almost a thousand per year to zero.
The local authority revealed they have been flooded with an average of 960 inspections relating to damp and/or condensation in council homes per year between 2012 and 2015.
In 2016 however, the council carried out only 468 specific inspections for damp and/or condensation but 1041 inspections of building fabric.
And in 2017, the council did not carry out any specific inspections for damp/condensation but as of last month had received 258 requests to do so.
The local authority instead carried out 458 building fabric inspections.
A spokesperson for Dundee City Council said that there was an "inevitable" link between fabric inspections and tenants' heating, ventilation, and living habits and that inspections take into account "all relevant factors".
However, Conservative North East region MSP Bill Bowman argued the distinction between interior and fabric inspections is "crucial" in assessing the condition of properties.
He said: "Last year there were no specific inspections for damp and condensation in council stock.
"Dundee City Council has a responsibility to maintain its stock of local authority housing up to the required standard.
"Instead, these standard inspections seem to have been replaced by general surveys of building fabric.
"The distinction between interior and fabric can be crucial when it comes to judging living standards.
"The council must ensure there is an open and transparent process for reporting damp in its housing — one of the biggest causes for complaint.
"Many people living in local authority housing will not know of any changes to reporting, and hence their homes may not be up to the required standard."
A Dundee City Council spokesperson said: "There is an inevitable link between the fabric of any house and the way in which tenants heat, ventilate and live in their home.
"It is important therefore that we raise awareness from the tenancy commencement of energy efficiency, causes of condensation and the distinction between condensation and dampness.
"We do this by means of the tenant handbook, advice from officers and we also have a leaflet available.
"Repairs officers inspect complaints of condensation or dampness and where required building condition surveys are undertaken in some instances. Inspections will always take into account all relevant factors.
"Our Scottish Housing Quality Standard programme has also enabled installation of improved ventilation systems in bathrooms and kitchens.
"Our aim is that all of our tenants can live in warm, dry, comfortable homes."
In April last year, The Courier reported one Dundee family's 17-year battle with the council over water leaks in their home.