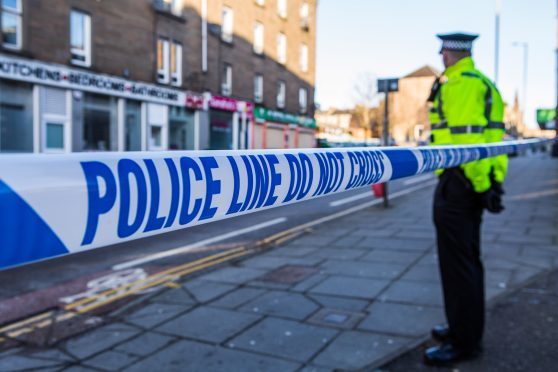 Three teenagers have been detained after a man who was found lying on a Dundee street with "serious" head injuries died in hospital last night.
The man has been named as 50-year-old John Watt, who lived in the city.
Mr Watt's death is being treated as murder.
The three males detained in connection with the death are aged 15, 16 and 17.
Officers were called to Albert Street at around 3.35am yesterday following reports of a man being badly injured.
Mr Watt, who was wearing a green bomber style jacket, is understood to have sustained serious head injuries and was rushed to Ninewells Hospital for treatment.
Detective Chief Inspector Andy Patrick of the Major Investigation Team said: "We can confirm that Mr Watt passed away early this evening in hospital and our thoughts are with his family and friends.
"We are conducting a thorough investigation into the full circumstances surrounding Mr Watt's death and a visible police presence will remain in the area whilst officers continue to carry out inquiries.
"I would like to thank the local community for their patience while we progress with the investigation and can confirm that Albert Street has now reopened."
Witnesses described seeing a man being escorted by plain-clothed police officers from a nearby flat at around 8.15am.
Resident Christine Ritchie lives just a few streets away and said she heard shouting late at night from her bed.
"We heard voices but we just stayed inside," she said, "We try to keep ourselves to ourselves because it's got quite bad around here. I have a young son and I really worry for him."
A man who lives in a flat overlooking the site of the weekend incident said things had become "quite brutal" over the past few years.
"I hate living here," he said.
"Things have got really bad. There are two chemists at either end of the street and the area really does have a serious drug problem."
The grim find is the second serious incident in the city in less than a week after a man was killed in a suspected hit-and-run incident at the junction of Mains Road and Bayne Square on New Year's Day.