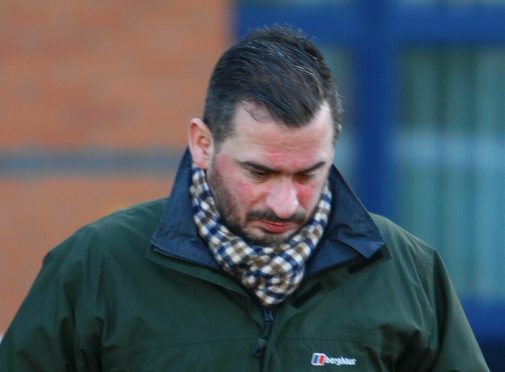 A Dundee man who was fired for going to a gin festival while on sick leave has denied he defrauded his employer and said he was going through the "worst time" in his life.
Stan Reid, a former production manager at the city's Michelin factory, was off work due to the stress of searching for the body of his friend's teenage son, Ralph Smith, who had fallen from cliffs near Arbroath in February 2017.
He was also distressed by the deaths of his friends David Sorrie and Julie McCash, who had been murdered following a vigil at the teenager's family home.
Michelin bosses fired him for gross misconduct after seeing a Facebook post suggesting he had attended a gin festival in Glasgow.
A response to the message from Mr Reid, stating "I'm not there", had been followed by a comment from his girlfriend saying "shhh…."
On day two of an employment tribunal in Dundee on Tuesday, senior managers at Michelin said the comment had been "mocking" in nature and they took "attacks" on the company's sick pay scheme seriously.
Mr Reid denied he had "defrauded" the system and said the Glasgow trip, on March 5 last year, had been an attempt to "get away from it all".
Sobbing while giving his evidence, Mr Reid said: "It was crushing, I was trying to help my friend find his son's body.
"I still went to work on the Monday after it all happened, although I hadn't slept.
"That night I couldn't sleep again and I called in sick because I couldn't go back in half asleep and work on the machines."
The tribunal heard his girlfriend, who is an events manager, suggested he accompany her to a gin festival that she attending for work-related purposes.
Mr Reid added: "She said it would be good for me to get away from it all, and I agreed to go.
"I didn't have a ticket and tried to buy one there, but they wouldn't let me in. I went and sat in a nearby pub while still answering messages about Ralph.
"I was tagged in a post to say I was at the festival and I commented saying I wasn't there, which was true. My girlfriend then said "shhh", meaning that it was her timeline and she could post what she wanted.
"I was going through the worst time in my life and when I came back in, they belittled the seriousness of my circumstances."
Michelin's development manager Stuart Duncan admitted the decision to dismiss Mr Reid "may have seemed heartless" but said management had followed the correct procedures.
The company's head of planning Fraser Duff added that he was not convinced by a doctor's certificate declaring Mr Reid unfit for work, since it had been issued retrospectively, 11 days after the absence.
He said: "There was evidence of a lack of understanding or remorse and I didn't feel I couldn't trust Mr Reid any longer.
"We have a very generous sick pay scheme and any attacks on it or attempts to defraud it are treated as gross misconduct."
The hearing continues.