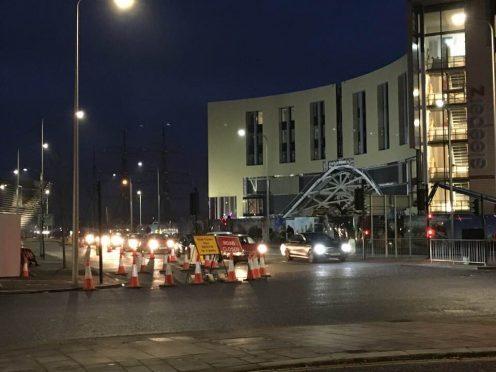 Motorists are facing further disruption as a waterfront road remains partially closed to allow for the construction of a controversial new office block.
Congestion was worse than normal across the city yesterday and was described as "gridlock" by residents, with traffic was reported to be very heavy on Thursday morning as well.
On Wednesday traffic was particularly heavy on Arbroath and Broughty Ferry roads, while there were also reports of tailbacks on Greendykes Road, the Scott Fyffe Roundabout and in the Downfield area.
Twenty-minute waits were reported on Blackscroft and Dock Street, while journeys from Broughty Ferry to Dundee were reported to have taken between 45 minutes and an hour.
Traffic around the waterfront area was also slow moving during the evening rush hour.
Police said the problems were down to the "sheer weight of traffic".
However, a lane closure on South Union Street was being blamed for the issues.
The southbound restriction between Thomson Avenue and Riverside Esplanade is set to last for two weeks to allow for "site development enabling works" associated with a new waterfront office block.
Work on the controversial £15.5million project, part of the area's £1 billion redevelopment, started on Monday and is expected to continue until February 2019.
A spokesperson for Dundee City Council said: "While development continues at the waterfront it will be necessary from time to time to close or restrict streets in the area. These will be sign posted in advance and featured on the council's website.
"We would urge drivers to be aware of them and make the appropriate allowances or where possible take an alternative route."
One Broughty Ferry resident who was caught up in yesterday's traffic said recent road closures had been poorly planned and the closure of a lane on Riverside Drive near the airport on Monday morning had also caused delays.
"There were no workmen present, yet traffic light control was in force and the work looked like it was on the verge of the roadside," the added.
"Surely the traffic light control could have been removed for the rush hour.
"This even appeared to delay the police attending an accident opposite Tesco that morning."