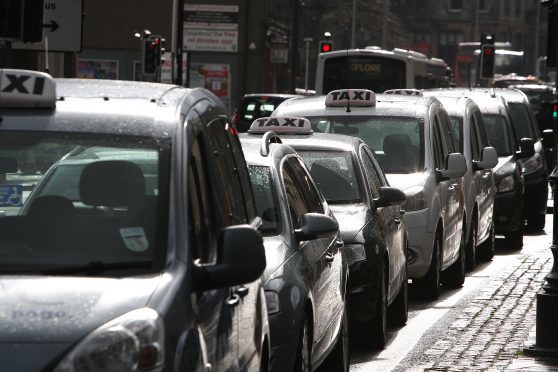 Dundee taxi drivers are being urged to inform police if they drop teenagers off at house parties following a series of high-profile violent crimes.
A letter sent to taxi companies in the city asks that drivers notify Police Scotland's Tayside Division of any suspected parties and report passengers if they think they are drunk or on drugs.
Some taxi drivers in the Dundee disagree with what police are asking of them.
Qaiser Habib is the director of Dundee City Taxis and a member of the city's council and taxi liaison board.
He said it was not the role of drivers in Dundee to monitor what their fares were up to and it was not part of the operating conditions of being a licensed driver.
The police say they are asking cabbies to be their eyes and ears following a number of violent crimes in Dundee in recent weeks.
A 17-year-old youth remains in a serious condition in Ninewells Hospital after he was found unconscious in Adelaide Place just before Christmas.
Two 15-year-old boys were charged in connection with the incident.
Earlier this week, three teenagers appeared in court in connection with the death of 50-year-old John Watt, who was found injured in Albert Street on Sunday morning.
The letter, seen by The Courier, does not specifically refer to any incidents.
However, it states: "Following a number of recent well-publicised incidents of violent crime around Dundee involving youths from house parties carrying out said acts, Dundee Local Policing Area seek your assistance in identifying any such party flats where those attending are mostly teenagers."
It goes on: "Should any of your drivers collect passengers who are on their way to what would appear to be a  party, we request that we be contacted and advised of the address of the party, and any other information you can provide."
Cabbies are asked to take note of any information that could be helpful to police, such as the number of people at the party, whether or not they appear to be under the influence of drugs or alcohol, or if they are carrying alcohol.
Drivers are told they do not have to remain at the address but can instead provide the information to their control centre, who will then contact Police Scotland's non-emergency line.
It adds the force is aware of "where most house parties occur" and says these are monitored on a "week-to-week basis."
But it says "new locations are frequently used and any assistance you can provide will assist police in taking enforcement action, ensuring public safety for both yourselves and members of the public."
Mr Habib said: "It is an odd question being asked by police.
"It is not our job to monitor what people get up to once they are out of the cab, we are not the police. Our job, as professional drivers, is to make sure the people we pick up arrive at their destination safely and securely.
"If something does happen, then the police can contact the main office and we will gladly help them.
"We cannot guess what people are up to once they leave the taxi and it is not our job to do so."