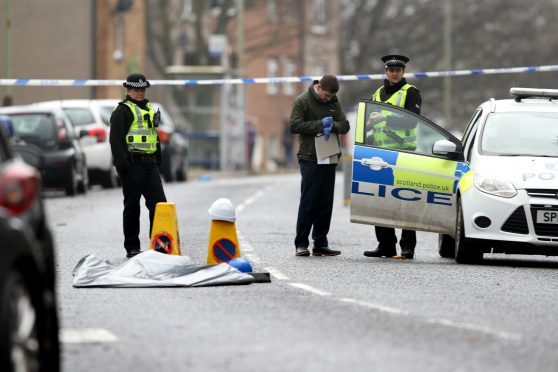 A man was found unconscious in the middle of the road in Dundee at the weekend in mysterious circumstances.
Police are investigating after the man was discovered on Charleston Drive, near the junction of Tweed Crescent on Sunday morning at 6am.
A member of the public stumbled across the casualty and called an ambulance.
Police say he is middle-aged but officers have so far been unable to identify him as the only possession he had was a mobile phone.
It's not known how he came to be lying in the street but police say there is no reason to suggest anything criminal at this stage.
A spokesperson for Police Scotland said: "A man has been found unconscious by a member of the public at 5.40am on Sunday.
"It is not apparent at this stage what his injuries are but he was rushed to hospital.
"We do not believe that anything criminal has occurred but inquiries are at an early stage.
"First we need to identify him and understand how he came to be lying in the street."
The man is the fourth person to be found injured or unconscious in a matter of weeks in the city.
Two days before Christmas, a 17-year-old boy was found unconscious following an attack on Adelaide Place.
He remains in a critical condition in hospital and two 15-year-old boys have been charged in connection with the incident.
A 67-year-old man, John Ogston, died in hospital after being found in a serious condition at the junction of Mains Road and Bayne Square in the Hilltown at around 11pm on New Year's night.
Police believe he was lying in the road after a fall and was subsequently crushed by a car with the driver fleeing the scene.
And last week, three boys under-18 were charged with causing the death of John Watt, 50, after he was allegedly assaulted in Albert Street on the morning of Sunday January 7.
The section of Charleston Drive between Tweed Crescent and Arran Drive was closed to cars while police tried to piece together the circumstances of the latest incident on Sunday.
A smaller cordon was in place in the road where the man was found.
Police tape also blocked off many of the nearby pedestrian steps and walkways leading down to Charleston Drive from the northern side of the street.
Neighbours said there was a lot of police activity in the area.
Mother Stevie Rice, 23, said: "My wee boy Jake saw all the police officers and the cordon in the morning.
"He kept asking me what was going. It's never nice to see all this on your door step."
Alex Smart, 48, said: "I saw the tent in the street and I thought the worst.
"I didn't know if there was still someone under it."
Inquiries are set to continue on Monday.