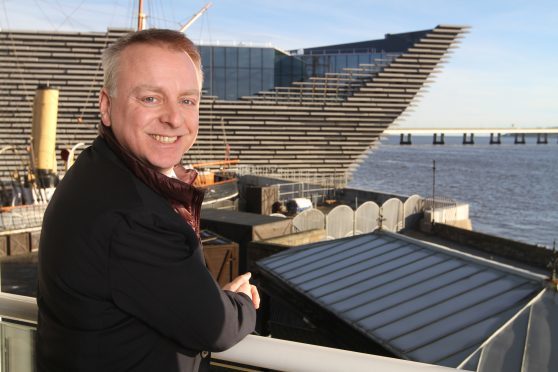 V&A bosses predict 500,000 visitors will flock to Dundee's £80 million museum in the first year after it opens on September 15.
Numbers are expected to settle at between 350,000 and 300,000 in subsequent years as the venue becomes a fixture on the city's cultural landscape.
The ambitious figures were revealed as V&A Dundee director Philip Long announced the date for the flagship museum's official opening.
Details of special guests and the ceremony are being kept under wraps until the arrangements are finalised but Mr Long said it would be a significant moment for the city and the whole of Scotland.
He said: "There have been many years of planning, a team working very hard to develop the project and a great deal of support here in the city for the development of the museum.
"Finally to be able to share the opening date, September 15, is really thrilling for us.
"We are working really hard on the plans for the opening of the museum but we can't go into details yet.
"What I would say about the opening of the V&A Dundee is that it's a very significant project, not just in the city,  but in Scotland.
"It is the country's first museum dedicated to design, which visitors will be able to experience and get involved with in very many ways."
It is estimated that the V&A, together with the overall Waterfront development, will bring around £11 million a year to the local economy.
Mr Long said economic investment in the city and the creation of tourism infrastructure will be ongoing for a number of years.
He added: "It won't all happen at once, but the sense of optimism and confidence in the city will continue to attract business."
Tristram Hunt, UK-wide director of the V&A said the opening of the Dundee museum would be a "cultural milestone" for the city.
He said: "The opening of V&A Dundee this year will be a remarkable moment for Dundee, the V&A and the UK.
"V&A Dundee will build on our deep connections to the story of Scottish design and its meaning for modern practitioners, sharing our collections and world-class exhibitions.
"This is a cultural milestone for Dundee and a new opportunity for the UK to show the world how art and design can educate and inspire."
Construction work on the V&A is due to finish at the end of next week, with the interior fitting-out beginning in February.