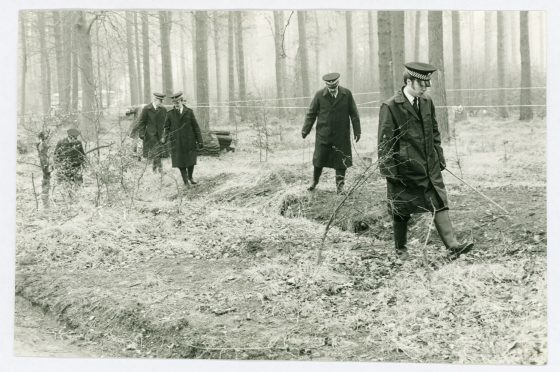 Cold water has been poured on a sensational claim that a notorious unsolved murder in Tayside was committed by the infamous Zodiac killer.
Research had been submitted to CID in Tayside suggesting an American man living in the north-east of Scotland should have been a suspect in the Zodiac slayings which terrorised Northern California from 1968 to 1974.
The dossier stated the killer had fled to Scotland and said the "Zodiac's last act" was the murder of Carol Lannen whose body was found dumped in Templeton Woods in Dundee in 1979.
But the theory has been quashed by investigators in California where a new team of code-breakers and former and current law enforcement officers have been re-examining the Zodiac case.
Sandy Betts, who has been involved with the Zodiac case since 1968, said she could not prove the American man investigated by police in Tayside was not Zodiac but has "more proof that tells me he is not".
"I do not believe Zodiac is in Scotland," she said.
"I believe he is still here in California. I cannot prove that this suspect could be Zodiac but I have more proof that tells me he is not."
She said Zodiac did travel and could have gone anywhere but she does not think  he is in Scotland.
Ms Betts is convinced she escaped the Zodiac killer 50 years ago and has been obsessed with bringing him to justice ever since.
She believes she was stalked by the Zodiac in 1968 when she was a cocktail waitress in Vallejo in the Bay Area. Several days later, the killer shot dead his first victims in the same city.
She said: "I want him stopped. I want justice for the victims.
"I'd like to get on with my life without having to look over my shoulder."
Although survivors said the Zodiac had an American accent, it was suggested he could have spent time in Britain through service in the US military.
Others have claimed the famous Zodiac 'gunsight' symbol is actually a Celtic cross and suggested the killer could have had Scottish heritage.
Although the Tayside investigation was stood down after six months, the suspect — who has links to Texas, Los Angeles and Tennessee — remained 'under review'.
The Zodiac's reign of terror involved at least five murders and a series of coded letters to the newspapers — the last one coming in January 1974.
In 2007, the story was turned into a hit film, Zodiac, starring Robert Downey Jr, Jake Gyllenhaal and Brian Cox.
Although the Zodiac Killer claimed to have killed as many as 37 people in his letters to local newspapers, police have only linked five murders — and two other injuries — to him.
The killer used the name "Zodiac" in a series of taunting letters sent to the local Bay Area press. These letters included four ciphers. Only one has been definitively solved.
Police Scotland said it had nothing more to add.