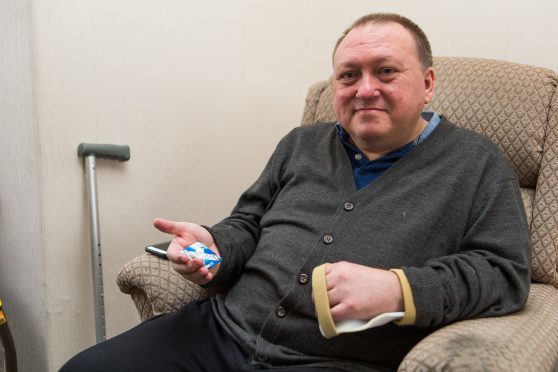 A disabled man said he is too scared to travel by bus after he was almost kicked off a by a driver because of issues with his pass.
Martin Gorrie, 48, was left permanently disabled after suffering a stroke in early 2017.
Mr Gorrie spent 10 weeks in hospital and had to learn how to walk again following his brain injury and requires the use of a walking stick because of complications.
Despite this, Mr Gorrie – who worked as an accountant prior to his stroke – has enrolled as a student at Dundee University, where he is studying on the institution's part-time masters course.
He travels by bus from his home in Colinsburgh, Fife, but claims to have suffered poor service from operator Stagecoach as a result of his disabilities.
In one instance, Mr Gorrie was almost refused travel by a driver on the 95 service to St Andrews because his national entitlement card had been "hot listed".
Mr Gorrie said he became distressed, agitated and upset because he had no other means of getting to Dundee.
Eventually, Mr Gorrie was taken to St Andrews, where a bus driver on the 99 service issued him with an "emergency" seven-day pass.
Despite this, Stagecoach said both the driver who initially refused Mr Gorrie travel and the driver who issued him with a seven-day pass acted incorrectly, but that Mr Gorrie should have paid the initial fare.
In another incident, Mr Gorrie said he was ignored by a driver as he tried to make his way off a bus as he was travelling home.
"My worry is that I am not the only disabled person being treated this way," he said.
"I have now been told on three separate occasions my ticket is 'hot listed' but it works for weeks at a time without issue.
"I've been told my national entitlement card could be 'hot listed' for a number of reasons, but none of them apply.
"In one incident, a driver refused to take my card, I had no money and needed to get to Dundee.
"The driver said he would phone the police even though I had done nothing wrong.
"I had my entitlement card and it was in date.
"I'm 48-years-old and I now feel like I am too scared to travel by bus, because of the way I've been treated."
A Stagecoach spokesman said: "There are procedures followed by our drivers, set by Transport Scotland when presented with a National Entitlement card which does not work.
"If the card has a fault, a temporary pass is issued to the customer and the faulty card withdrawn, if the card shows as 'Hotlisted' the card cannot be accepted for travel and the customer should pay the relevant fare.
"In most cases, a card is Hotlisted (or cancelled) when the customer reports it as lost or stolen and requests a replacement. If the original card is later found and an attempt made to use for travel, it will not work and we believe this to have been the issue on more than one occasion for Mr Gorrie's experience.
"We are in direct contact with Mr Gorrie and are working with him to ensure he receives his replacement card as quickly as possible, as well as addressing the individual incidents we has raised, to ensure he has no further cause for concerns when travelling on our services."