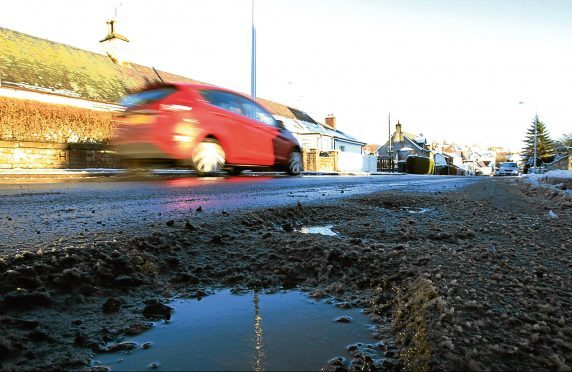 Concerns have been raised over the quality of pothole repairs in Dundee.
An annual report on the performance of the Road Maintenance Partnership shows pothole numbers have reduced in the last four years but just 34% were successfully repaired at the first attempt in 2016/17.
The partnership between Dundee City Council and Tayside Contracts set a target of repairing at least 30% of potholes at the first attempt, which it has surpassed for the third consecutive year.
Councillor Craig Duncan, however, said he regularly receives complaints from residents of his Broughty Ferry ward over the quality of repairs and said there is a need to avoid being "penny wise but pound foolish".
A meeting has now been scheduled between the partnership and councillors to discuss roads repairs and winter maintenance issues.
Mr Duncan said: "A reduction in the number of potholes across the city is welcome, but I highlighted the fact that constituents regularly report the quality of some pothole repairs, which do not last and then require further repair.
"It is vital that good quality permanent repairs are carried out and done cost effectively.
"There is a need to avoid the risk of being "penny wise but pound foolish" with council tax payers' money. I therefore welcome the opportunity to discuss the issue with the Roads Maintenance Partnership management."
Pothole repair in the city reached a peak of 26,638 in 2013/2014, with this reducing steadily year-by-year to 8,850 by 2016/2017.
The report states can be attributed, in part, to increased investment.
West End councillor Fraser Macpherson is also keen to increase resources to deal with winter maintenance enquiries after a number of complaints regarding ungritted roads and pavements.
He said: "At city development committee this week, I voiced my concerns over some aspects of the way in which winter maintenance is administered.
"Constituents rightly expect a high quality winter maintenance service and that local streets are gritted as quickly as possible.
"The staff in the Roads Maintenance Partnership do an excellent job but there is a need to increase the resource do deal with winter maintenance enquiries.
"That is why I asked for a meeting of councillors and management of the council's Roads Maintenance Partnership to discuss this and roads repairs issues.
"I am pleased this has been agreed to as a good quality roads and winter maintenance service is something we should all be striving to achieve."