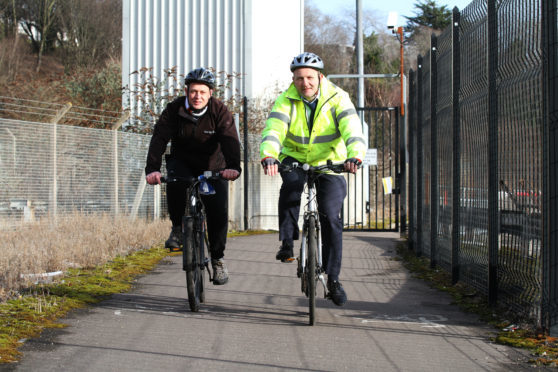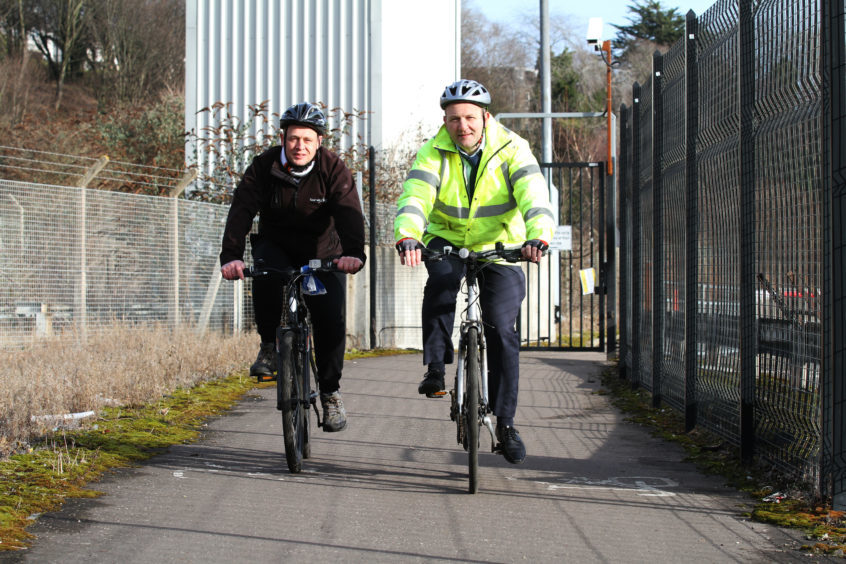 A popular Dundee cycle path is set for a makeover that will also open it up for pedestrian access.
The route, which snakes through Dundee Port from the Nynas refinery to the Stannergate, will undergo an overhaul which will see it being made more accessible for cyclists of all capabilities.
Currently the path is maintained by Forth Ports, but following a deal made with Dundee City Council, the maintenance and upkeep will now fall under the responsibility of the local authority.
A new, three metre tall chain link fence will be erected along the side of the path, meaning access to the actual port will still be restricted — in keeping with government legislation.
The access gates at each end will be removed and, unlike at present, the path will also be open to pedestrians.
As well as the fence, rougher sections of the route will be resurfaced and guide lights introduced to keep users on track.
As part of the council's cycling strategy, which was unveiled in 2016, a number of initiatives in improving bike access are to take place.
John Berry, sustainable transport team leader for Dundee City Council, said the renovations will hopefully encourage more people in the city to travel by bike.
He said: "The idea behind the work which will be carried out it to make cycling in Dundee accessible for all.
"We bid for EU funding, to the tune of £800,000, which the council has matched through its investment in active travel in the past.
"The improvements to the port cycle path are really the first phase of works. In 2019 we will also hopefully have completed the active travel hub, which will be located right in the heart of the waterfront development.
"We hope, with the tender being put out at the end of January, work could begin at the end of spring and be completed in time for summer."
The local authority's cycling spokesperson, Councillor Kevin Cordell said: "The health benefits of cycling are clear among anyone who does it.
"It is a really social activity, you can go out with the family, you can go out and enjoy the fresh air, it is an excellent sport to do.
"There are a lot of people who want to get out and cycle, so it is very important the council has a cycling strategy and spokesperson.
"The two most important things, for me, is to make sure the city has the infrastructure and to make sure people are safe when they are doing it.
"There are a number of initiatives in place at the moment and we will continue to look for initiatives for cyclists to help them get round the city."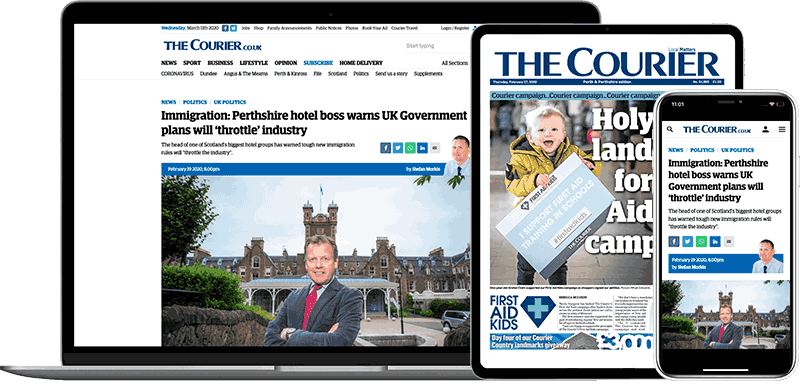 Help support quality local journalism … become a digital subscriber to The Courier
For as little as £5.99 a month you can access all of our content, including Premium articles.
Subscribe