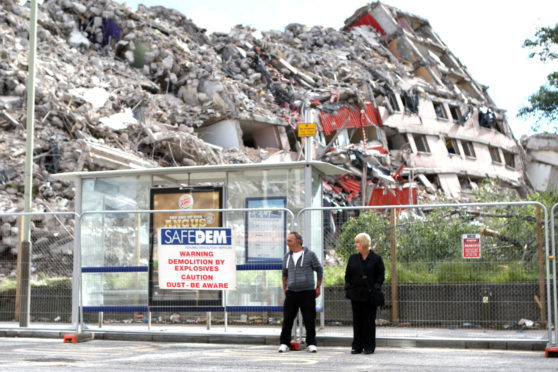 Concern has been raised over a steady decrease in the amount of social and affordable housing available in Dundee.
The number of tenancies for social housing — which is owned by both councils and housing associations — has dropped by 637 in the last two years in Dundee, from 14,326 in 2014/15 to 13,689 in 2016/17.
The figures, released through Freedom of Information legislation, show, despite the council building hundreds of new affordable homes in areas such as Mill O' Mains, Whitfield, Lochee and Hilltown, the number of tenancies are still decreasing.
The council said it has a long-term plan in place to provide more homes and is committed to building 1000 new properties.
The local authority has been criticised in the past for its pace in addressing housing shortages, with Bruce Forbes, director of Angus Housing Association (AHA), describing progress as "painfully slow".
North East region Scottish Conservative MSP Bill Bowman, claims the council could do more to attract greater investment in areas such as the city's vast brownfield sites.
He said: "Dundee has substantial brownfield in the city limits which would go some way to providing citizens with affordable, quality housing.
"But the SNP-run council must do more to attract the investment which will build these homes. This will stimulate the number of rental properties available, and drive rents down.
"It would also allow more young people to save up for a deposit towards getting on the property ladder."
As part of its Strategic Housing Investment Plan, Dundee City Council has established there is enough available land for up to 6650 homes to be built in the city in the next five to 30 years.
Lochee and Maryfield have the greatest space for development, with each containing enough land for at least 1000 homes.
The council's neighbourhood services convener Kevin Cordell said it was working on a plan to address the type of housing needed.
He said: "We recognise the need for new affordable housing, that's why we have committed to building 1000 affordable new homes.
"In Mill O' Mains, Whitfield, Lochee and Hilltown, we have already built more than 200 new affordable homes.
"We have another 380 homes in the pipeline, with 163 planned for Derby Street.
"Through the Dundee Strategic Housing Investment Plan, we are getting to grips with the problem of supply and demand by rebalancing the amount and type of housing on offer to the people of Dundee."