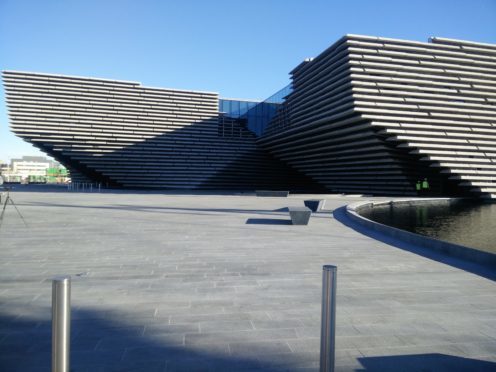 True story: a few years ago and for reasons obscured by the passage of time, I went on a night out in Kilmarnock.
As this was when Dundee's reputation was less than stellar, it led me to think its slogan could be changed from the City of Discovery to Dundee: Better than Kilmarnock.
This would, I surmised,  let visitors know in an amusingly self-deprecating manner that no matter how bad they thought Dundee was, there was at least one place on Earth far, far worse.
As amusing as I thought I was being at the time, I can see now that declaring war on towns in East Ayrshire is not a laughing matter, nor is punching down ever really funny.
I was reminded of my night out in Kilmarnock this week following a discussion on social media about ways to market Dundee, given the regeneration that has occurred in the city over the past few years.
The proud slogan, City of Discovery has been is use for two decades. In 2009, following two years of consultation and £73,000 of taxpayers' money, a new slogan was unveiled: "One City, Many Discoveries"  which managed to say a lot less while using one more word.
It was supposed to tell people there was more to Dundee than a famous polar exploration ship but it is time to revisit it, not least because anyone searching the slogan online will be taken to a Dundee City Council webpage that still boasts of the airport's flights to Belfast, Birmingham and London City.
One suggestion put forward by City Development convener Lynne Short was "Dundee is Community" which is not bad but doesn't exactly set the pulses racing.
My own suggestion was "Dundee: Designed for Life" which I thought was very clever, as it played on our UNESCO City of Design designation and the imminent opening of the V&A, as well as making the point that Dundee really is a great place to live, work and play.
Unfortunately, it's just a little bit too close to a 22-year-old song by the Manic Street Preachers, a band that could be described as the Kilmarnock of British music, if only that wasn't so unfair on Kilmarnock.
No doubt there are many better ideas out there.
While it may seem frivolous and Dundee's charms obvious to those of us who know the city, selling it to the world will be crucial in years to come if we are to attract the tourists and businesses we need to.