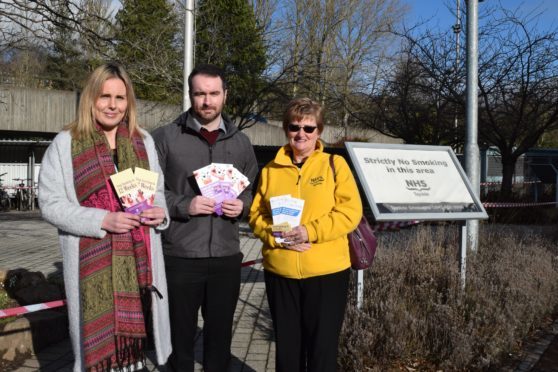 NHS Tayside has closed its fresh air garden near the entrance to Ninewells Hospital in a bid to stop smokers from using it.
The health board decided to cordon off the garden for four weeks to discourage patients and visitors from lighting up.
Although NHS Tayside operates a strict no smoking policy, smokers regularly congregate in the garden, which is just yards from the main entrance to the hospital.
A spokeswoman for NHS Tayside said the health board regularly receives complaints from patients, visitors and staff about smokers congregating around entrances, footpaths and seating areas in NHS Tayside grounds.
It is hoped that sealing off the garden temporarily will remind people of the no smoking policy and discourage them from lighting up.
However, Simon Clark, director of smokers' group Forest described the move as "petty" and suggested the health board should have "better things to do".
During the four-week closure, which began last week, members of NHS Tayside's Quit Your Way services will take part in "walkabouts" to monitor the area and also offer advice on where people can seek support to refrain from smoking while in hospital grounds.
Andrew Radley, consultant in Public Health for NHS Tayside, said: "Since the temporary cordon was installed, we have already received positive feedback from patients and staff about the smoke-free environment they now experience coming in to the hospital.
"It is clear that most people that we talk to support our No Smoking Policy and want to be able to use our services without being exposed to second-hand smoke.
"We hope that this temporary closure will help make people more aware of our No Smoking Policy and how they can support it.
"As a health promoting organisation, NHS Tayside takes breach of the policy very seriously. We are committed to helping the communities that use our services to lead longer, healthier lives."
He added: "We understand that it can be hard to go without a cigarette, particularly at stressful times, however the NHS exists to make everyone's health as good as possible.
"Keeping our grounds smoke free is to benefit the health of everyone and we thank all smokers for respecting this."
NHS Tayside's smoking policy now allows the use of e-cigarettes on NHS Tayside grounds but they remain prohibited in buildings and enclosed spaces.
Later this year, the Health (Tobacco, Nicotine etc And Care) (Scotland) Act 2016 will make it illegal to smoke within 15 metres of a hospital building.
Anyone breaking this law will be liable to receive a fixed penalty notice which can be issued by enforcement officers employed by the council.
NHS Tayside's Quit Your Way services provide smoking cessation services and information about support available to NHS staff, patients and members of the public, including the availability of Nicotine Replacement Therapy.
Help is also in place for patients that smoke to help them remain smoke free while in hospital.
Experts say quitting smoking is the single most important lifestyle decision that anyone can make to improve their health.
Mr Clark from Forest, said: "It seems extremely petty to close the garden just to stop people smoking.
"Hospitals can be stressful and even lonely places for some people, patients especially. Why shouldn't they congregate outside for a comforting cigarette and a chat?
"Smoking outside doesn't harm anyone else and the inconvenience to passers-by is negligible.
"The health board surely has better things to do than harass people when they're at their most vulnerable. A little less doctrine and bit more empathy and compassion wouldn't go amiss."