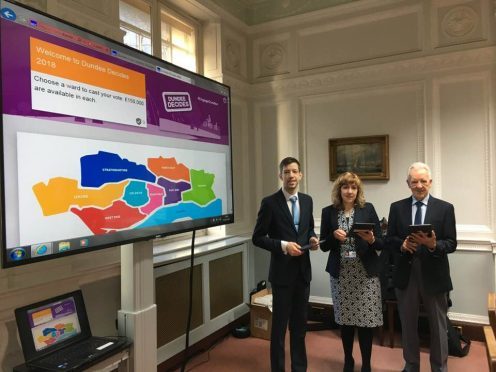 The leader of Dundee City Council has hailed the "fantastic" response from the public on how cash will be spent in the city.
More than 3,000 responses have been received so far for Dundee Decides.
The ongoing council campaign is looking for people to suggest how the local authority spends £1.2 million from the community infrastructure fund.
John Alexander, leader of the council, praised the level of engagement communities have had with the initiative.
Anyone aged over 11 can vote for their preferred projects, which include improvements to play parks and other facilities for children and young people.
Mr Alexander said: "We've had a fantastic response so far and considering that this is a new process and a new way of engaging with the people of Dundee, it's great to see so many taking the time to take part.
"It's a learning curve for all of us and we want to continue to improve the process by learning from the feedback gathered. We want as many people as possible to take part in Dundee Decides and there is still time to cast your vote for the projects that are highlighted in each of the city's eight wards.
"Consultation events are taking place in communities for those who can't get on the website."
The series of events has been organised across the city's eight wards to give people a chance to discuss ideas with other residents and council workers.
Some community events have already taken place. Details for the remaining meetings are on the Dundee Decides website.
Each of the council's eight electoral wards – Strathmartine, Lochee, West End, Coldside, Maryfield, North East, East End and The Ferry – has been allocated up to £150,000 to spend on infrastructure improvements.
If any funds are left over after winning entrants have been selected they will be allocated to enhance projects in each ward.
The money will be used for physical projects like improvements to play areas, introducing pedestrian crossings, pavements, lighting and planting.
Voting takes place online at www.dundeedecides.org using a secure electronic voting system with a number of checks and balances built in to ensure safety and fairness.
Votes can also be cast by phoning 01382 435808, with lines open 9am-5pm Monday to Friday.
Polling closes on March 23 and results will be announced by the end of that month.