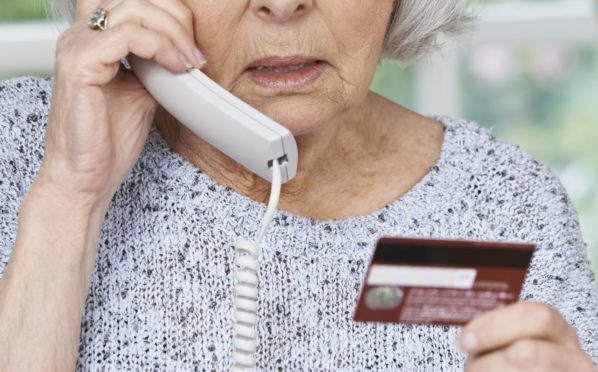 Tayside residents have been warned to be on alert after locals were swindled out of more than £750,000.
Police say fraudsters targeted members of the public using a telephone scam by claiming to be from their bank, and managed to walk away with the whopping six-figure sum.
The force is now appealing for residents to remain vigilant and speak to either a family member or police officer if they have concerns.
Detective Inspector Iain McPhail of the economic crime and financial investigation unit said: "Members of the public have been targeted through telephone calls from fraudsters claiming to be from their banks' fraud team.
"They state their accounts have been compromised by attempted transactions elsewhere in the region and they are then encouraged to move money to a fictitious safe account.
"There is then continual contact from the fraudsters on a regular basis until such times as the victims' bank accounts are empty.
"I would like to remind the public, if fraud has been committed on your account, banks will never contact you direct and ask you to transfer money to another account — if they do hang up immediately."
In December, a 74-year-old woman was scammed out of £140,000 by fraudsters claiming to be from the fraud department of her bank.
Another incident saw a 75-year-old man from Montrose duped into transferring £74,000 into other accounts — although his bank were later able to trace the funds.
In a third case, a pensioner from Kinross lost £5,000 after being called by a person claiming to work for BT, who said her computer had been hacked and persuaded her to hand over her bank details.
Det Insp McPhail advised suspicious residents to contact their bank on the correct number they have for them on a separate phone from the one where the initial call was received.
"The bank will never ask about personal information and assets held at other financial organisations," he said.
"If the bank calls you on a daily basis asking about your welfare or encouraging you to transfer more money to other accounts, please contact family or a friend to discuss.
"If in doubt and if possible, please attend personally at your local branch to discuss the issues or contact Police Scotland on 101."