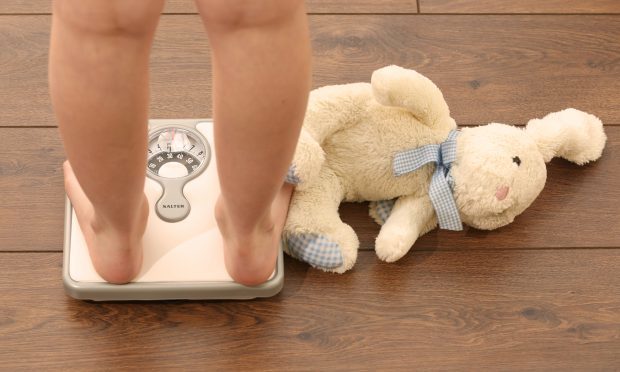 Almost 1400 children in Tayside and Fife have been referred to weight-loss specialists because of obesity over the last three years.
Figures released in responses to a Freedom of Information inquiry submitted by the Scottish Conservatives revealed that 1,399 in the two health board areas have been sent for weight management referrals — almost 10 a week.
More than half of these — 759 — were in Fife with the remaining 640 coming from Tayside.
The problem is even worse for adults, with 1,472 Fife adults and 3,418 Tayside adults also receiving referrals or being offered free gym passes over the same period.
Across Scotland, 5,129 children and 61,916 adults have been referred to specialists because of their weight problems.
Mid-Scotland and Fife Conservative MSP Liz Smith said: "These figures show that thousands of people across Tayside and Fife are struggling to keep their weight under control and are now at the point where doctors are stepping in to provide support.
"The offer of free gym passes is a good one and its vital that people who are struggling with weight issues are given support to lead healthier lifestyles.
"However, exercise is only one side of the coin and more focus must be taken on helping people make healthier eating choices.
"The financial burden of supporting those with weight-related health issues is set to increase and its vital that the NHS invests in preventative healthcare solutions.
"However, it's also important that parents take responsibility and ensure that they provide their children with the healthiest possible environment to grow up in.
"Obesity will be one of the great public health challenges of our time and it's important that the Scottish Government makes the right decisions now to lay the groundwork for better future health."
The Scottish Government's official consultation on obesity – "A Healthier Future" – closed at the end of January.
Scottish Government public health Minister Aileen Campbell said: "We put forward a bold package of measures in our draft diet and healthy weight strategy to help everyone make positive choices, empower personal change, and make Scotland a healthier place to live.
"As was the case with tobacco and minimum unit pricing for alcohol, when Parliament unites around a common purpose we can make a real and lasting change to the health of our nation."
Joyce Thompson, NHS Tayside's dietetic consultant in public health nutrition, said: "Obesity is a major public health issue and a priority for NHS Tayside.
"Being obese or overweight can increase the risk of developing a range of serious diseases, including type 2 diabetes, hypertension, heart disease and some cancers.
"To address the issue of obesity, NHS Tayside works with partner agencies to provide a range of initiatives and programmes to encourage and enable people to eat healthier and get more active.
"People in Tayside can access the Paediatric Overweight Service Tayside (POST), a free service which works with families to support children and young people under 16 years and in the 'unhealthy weight' category to manage their weight.
"NHS Tayside also offers weight management support to adults with obesity and promote many schemes involving walking, cycling and getting active."