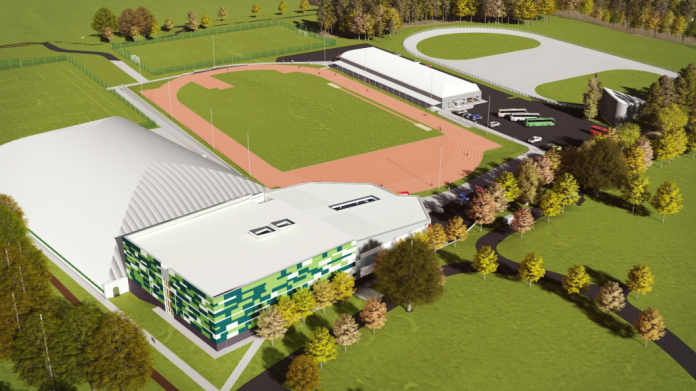 The long running plan for a multi-million pound Dundee sport centre has leapt its latest hurdle after the government announced a tax u-turn.
The Regional Performance Centre for Sport (RPCS) was threatened after a review into payable business rates by the Scottish Government left it facing a potential £750,000 annual tax bill.
The Caird Park project has been on the table since 2014, although Sport Scotland first identified the need for a regional centre in Tayside in 2003.
The plans were withdrawn at the last minute in 2016 following a campaign from the Care for Caird group and the pull-out of Dundee FC.
The tax agreement means construction of the £23 million centre could now start as early as the spring, according to council leader John Alexander.
The uncertainty arose after the Scottish Government ruled new community sports and arts facilities should be subject to business rates. The decision, following the so-called Barclay Review, means services run by arms-length external organisations (ALEOs) — like the Caird Park facility — could be hit with hefty rate demands.
Finance secretary Derek Mackay has now confirmed the project's "exceptional circumstances" mean it will be exempt from the tax.
North East Labour MSP Jenny Marra asked First Minister Nicola Sturgeon to deliver the centre "tax free" last week. She has cautiously welcomed the announcement but said it fell short of addressing the bigger picture.
"While the RPCS is getting a reprieve, the new Menzieshill Community and Sport Centre will not,"she said.
"Any new sports or cultural project put forward by Leisure and Culture Dundee or any other council arms length organisation will be subject to new taxes and that is unacceptable.
"Taxing physical activity and sport is the latest example of a government that doesn't have a clue on how to deal with the problems of our nation's health."
SNP council administration leader Councillor John Alexander welcomed the news and said he and his colleagues had been working for months to mitigate the tax.
"Having already received planning permission and sought tender responses, our project was in the process of being delivered. These were exceptional circumstances that rightly should be taken into account," he said.
"Having now received this confirmation, I will request that a report be swiftly brought forward to committee to seek agreement to start on site, with construction starting in the coming weeks."
SNP Dundee East MSP and cabinet secretary for health and sport, Shona Robsison, said she was delighted with the outcome.
"It involved a great deal of work behind the scenes from myself, Joe FitzPatrick MSP, and Councillor John Alexander working with the finance secretary to ensure the Barclay Review didn't have a negative impact on the RPCS.
"The entire process has been a real team effort between the Scottish Government and Dundee City Council, working in partnership to deliver what will be a first class facility for the city and wider region."