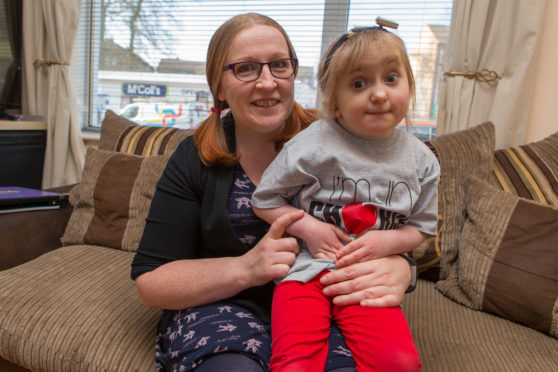 A Dundee mum is to launch specialist sign language training classes to help disabled children like her own communicate better.
Leanne Howie, 37, was inspired to become a tutor by her five-year-old daughter, Robyn. She was born with a complex genetic condition and subsequently found communication challenging.
After facing years of frustration in her bid to find affordable training courses, Leanne decided to launch a fundraising bid to allow her to become a licensed tutor to teach others.
She will teach the Makaton communication method, a slight variation of standard British Sign Language.
It is more suited to children with learning and communication difficulties and has slowly risen in prominence in recent years with the popularity of CBeebies show Something Special, starring Mr Tumble.
Although the courses will be paid-for, Leanne said she is not interested in making a profit and simply wants help parents in a similar situation to herself.
She said: "No one can truly understand the joy of a child's first sign the way another parent can.
"The whole idea is just to help other parents and their children. There is a real lack of affordable high-quality courses here.
"I wanted to share my unique experience as a parent with other families struggling with communication difficulties.
"More people using Makaton will remove barriers to friendship, promote inclusion and acceptance in the wider community."
Alongside husband Gregor, Leanne successfully hosted Dundee's very first Makaton Santa's Grotto in Christmas 2016 at Bears and Buddies Workshop on Union Street.
She said the experience revealed how many people in the city supported the idea of a Makaton community and encouraged her to launch the service.
She added: "It has taken me 18 months to get through the course but it has been so worth it.
"We knew it would be a long term thing but I can't wait to get started now. It's really exciting.
"So many people helped me raise the £2000 needed to get through the course over the last 18 months.
"I have had a lot of people get in touch now that the courses are about to begin and they are really appreciative of the chance to learn."
As well as full courses, LeHands will also offer taster sessions with the first beginning in March.
To find out more about Leanne's new classes, visit lehands.com.