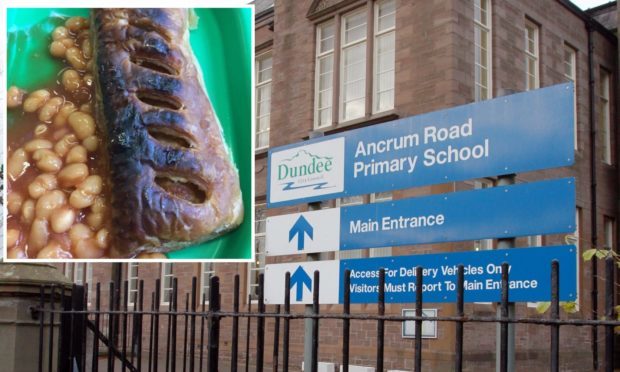 Tayside Contracts has launched an investigation into claims Dundee children are being served "poor quality" school lunches.
A concerned aunt of an Ancrum Road Primary pupil said her niece was recently given burnt sausage roll and beans, which she was unable to eat.
Jennifer Brown said the girl sometimes goes home hungry as there is not enough food to go round every day.
The complaint comes just days after Dundee City Council increased the price of school meals.
Jennifer said: "My niece isn't a fussy eater but she took one bite of that sausage roll and said it 'tasted of burnt'. She couldn't eat any of it and went home hungry.
"It's not the first time she's gone hungry – she told me that sometimes by the time they get in the dinner hall there is only potatoes and gravy left and that's all they get as they have run out of everything else.
"I have heard from other parents who have kids at various schools and it seems that schools in affluent areas like Broughty Ferry and the West End get better food and better choice as the expectations are higher, whereas schools in more deprived areas get poor quality food.
"The price is being put up but it doesn't seem like we get very good value for what we pay."
Lochee councillor Charlie Malone said: "If these reports are true then it is concerning. We would expect children to get a nutritious, balanced meal."
Gary Conway, facilities business manager at Tayside Contracts, said: "Tayside Contracts prides itself on the consistent high quality of schools meals and customer satisfaction.
"I will therefore ensure that the pupil that was served this meal is given a full apology and appropriate recompense.
"I have instructed a full investigation to allow me to better understand why this unfortunate incident occurred despite our quality control procedures. We have also spoken with the head teacher.
"This is very much a one-off and we will establish the cause of this unfortunate incident to ensure that there is no recurrence."