Communities across Dundee have rallied to help each other as Britain's biggest snowfall for over 20 years leaves the city battling to cope.
Leader of Dundee City Council John Alexander paid special tribute to employees delivering services during the current cold weather.
He said: "These conditions are extreme and as bad as many of us have ever known them, but that has not stopped council employees continuing to deliver vital services.
"I want to say a massive thank you to them for their dedication to the people of Dundee, some of whom are the most vulnerable members of our communities.
"Delivering services is a team effort that needs every link in the chain to be strong and take its share of the weight.
"So while it is easy for us to think about the employees in the front end of essential services, it takes everyone in the council to help make it work.
"This is not an easy task when it is freezing cold and snow makes it difficult to get around, so I want to express my gratitude to our employees for what they have done and continue to do."
Among those services is meals on wheels, who ensure elderly and vulnerable people in the city get a hot meal twice a day.
Among the team delivering around 1000 hot meals a day are Kathleen Gilmartin and Ross Breen.
Kathleen, who has been delivering hot meals for 13 years, says they offer more than just the food.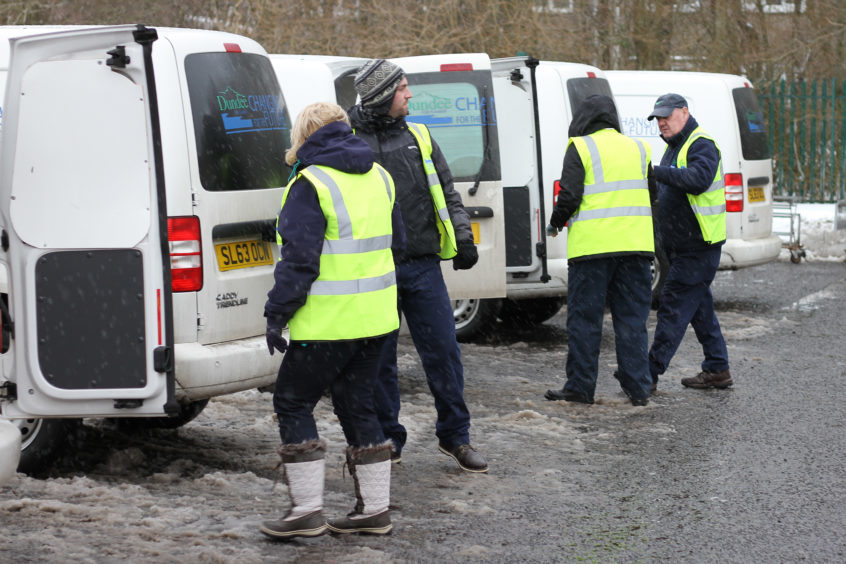 "Some of the people we deliver to haven't seen anyone else that day, so we try and chat to them as much as we can – although we do have to get on to the next delivery. The service is about more than just the hot meal – we look out for them too."
Ross, who has been working in the team for six years, concurs: "We can keep an eye on them. We get to know them and can sense if everything is okay. There was one time were a woman's behaviour was changing. We asked around and it turned out she had been put on the wrong medication."
On their round they stopped at Andrew O'Neil's house, who has been looking after his wife Francis since she had a stroke.
The 77-year-old said: "They're doing a great job. They haven't missed a day and it really helps me look after my wife. It's been a great help."
Peter Reilly, another stop on their route, echoed those sentiments.
"It's fantastic," he said. "I can't get out very often and even though I have some family that look after me, some of them live away so it's great that we can rely on this service. I am well looked after."
And 90-year-old Margaret Gourlay, is also grateful to the service, saying it means "everything" to her.
"I can't get out too much to do shopping," she added. "It is grand, I can't complain as it must be bad for them to drive about in this weather.
"They are dependable and the food is good."
SNP councillor Ken Lynn said: "In the very wintry, icy conditions we are experiencing at the moment, our staff go the extra mile to meet the needs of vulnerable individuals and families, and this is greatly appreciated. I know from the feedback I get that staff often go beyond the call of duty at these times.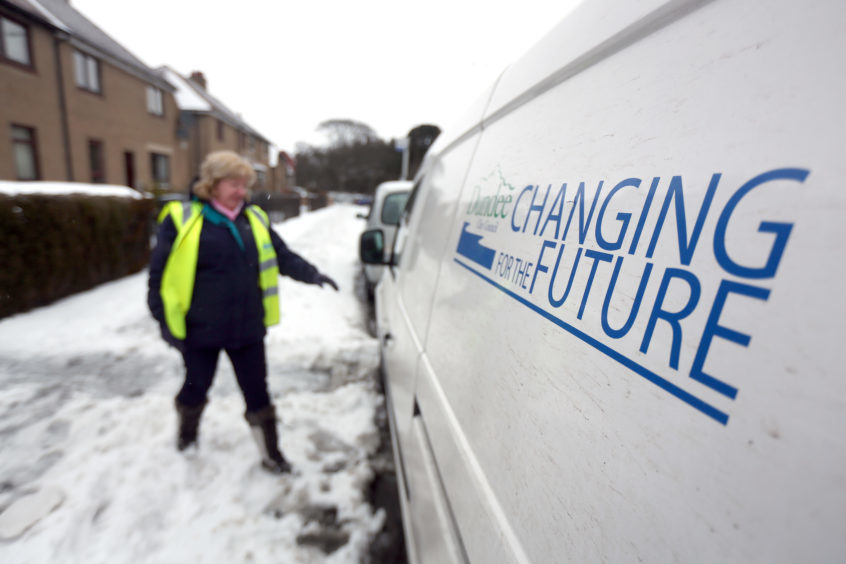 "For many of our service users, the winter period can be a lonely and difficult time, and the only social contact many people will have is with health and social care staff."
Local volunteers Tayside 4×4 Response Group have been out in the brutal weather taking staff to Ninewells and Perth Royal Infirmary.
The group, established following the back-to-back severe winter weather periods of 2010/2011, has also been taking social workers out on rural community alarm calls near Brechin.
Made up of five retired men and one woman plus several others of working age, they have been covering shifts all through the night since the storm hit.
Vegan cafe Marwick's continued its effort to supply hot drinks and soup to those in need, with more than £400 donated to the cause by generous Dundonians.
Soup and lunch items prepared for the cancelled Abertay University Securi-Tay conference were generously donated to Dundee Salvation Army.
Dundee-based 24-hour breakdown service Big Recovery and Transportation continued ferrying NHS and emergency service staff to work for free to prevent under-staffing.