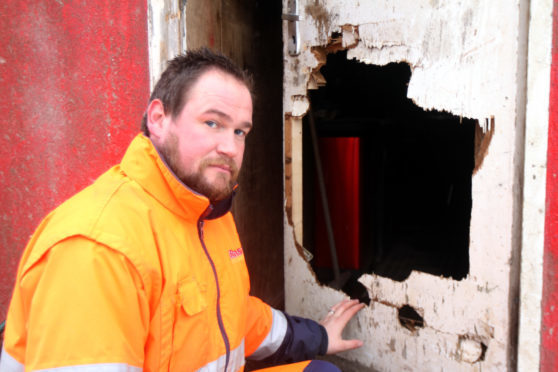 A Dundee businessman is offering a £500 reward for information that leads to the conviction of thieves who have targeted his premises four times in a fortnight.
Ramsay McBain, who runs Ramsay Transport Ltd, also known as Ramsay Skip Hire, in Lochee, said the same thieves have repeatedly broken into the yard where the company stores its lorries.
As well as stealing keys for the vehicles and items from the cabs including sunglasses and phones, the brazen thieves also broke into a burger van and stole a £70 float, soft drinks and cheese.
Mr McBain said the men responsible have been captured on CCTV which is currently being studied by the police.
But he is offering a "substantial" reward for information that leads to to the successful conviction of those responsible.
He said: "We have been broken into three or four times in the past two weeks.
"There is a yard opposite the office where the lorries are kept and there's also a key store.
"They've kicked the door down several times and have even stolen the keys for the lorries.
"They went in all the lorries taking things like telephones and expensive sunglasses then locked the doors behind them so we're thinking they are going to come back.
"Each lorry is worth more than £40,000 and if we want to get new keys we'll have to change the cylinders so it will be hugely expensive."
Mr McBain added the thieves show no concerns about the security measures in place.
"There is CCTV but they are blase about it," he said.
"There's a wee burger van and they kicked open the door to that on Thursday, stole a £70 float, Coca-Cola and even cheese."
Mr McBain added: "We're thinking about keeping someone here overnight to keep an eye on the yard.
"But we don't know when they'll come back. It could be two days, two weeks or two months."
However, he said he hopes the reward will encourage someone to come forward with information that will help snare the thieves.
He said: "There is no honour among thieves."
Police Scotland were asked to comment but had not done so by the time of going to Press.