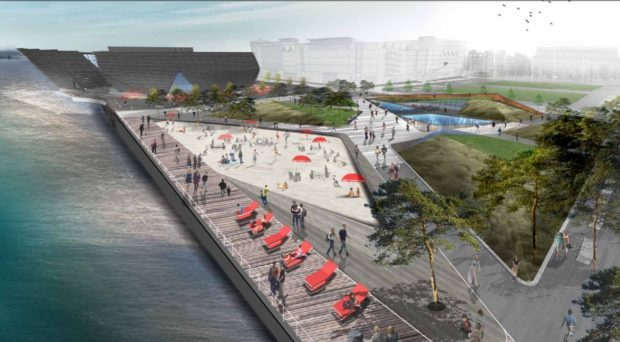 Plans have been lodged for the urban beach Dundee City Council wants to create next to the V&A.
The beach will be created on site nine, which lies between Slessor Gardens and the River Tay.
The ambitious plans for the site, called Waterfront Place, include a cafe that will form part of a man-made "sand dune".
A design and access statement submitted as part of the application states the new buildings should not compete with the £80.1 million V&A, designed by world renowned Japanese architect Kengo Kuma.
It states: "The aspiration is to create a new piece of public urban realm, a destination, but on approach from the city centre, passing through Slessor Gardens, the visual
journey wants to be one from manicured garden to a take on more naturalistic coastal forms and then on out over the Tay and to the far shore beyond.
"Buildings are desired as part of the brief, but it feels appropriate that whilst they should be prominent, accessible and welcoming they should in no way compete visually with the set piece that is the new V&A museum.
"The solution of designing landscape and buildings as one in the form of a stylized coastal dunescape achieves all of these aspirations."
As well as sand-dunes, pine trees will also form part of the development in order to mimic the approach to beaches found elsewhere in Scotland.
The design statement says: "Along the east coast of Scotland, the walk to the beach is typified by moving through meadow grassland, into pine forest, on through marram grass dunes and finally onto the beach."
The urban beach is one of the final pieces of Dundee City Council's masterplan for the waterfront.
Last month it was revealed an AC Marriott Hotel will occupy the prime site opposite the V&A as part of a mixed-use development including offices and apartments.
Dundee City Council will have to approve the plans before construction work on the site can start.