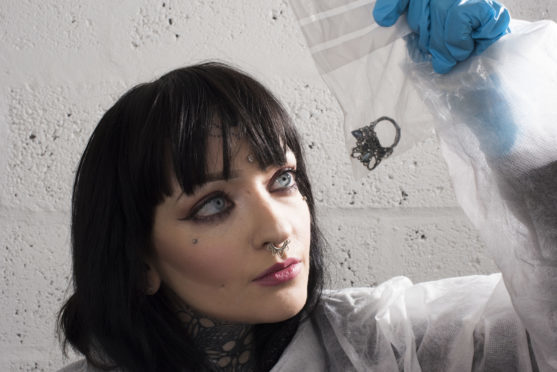 A Dundee University student who is on track to become the world's first "forensic jeweller" will appear on a BBC historical crime series on Monday.
Maria Maclennan has just handed in her PhD, which examines how jewellery can be used as a secondary source in forensic investigations.
She has spent several years helping investigators identify victims at crime scenes or disaster sites from the jewellery they were wearing.
After studying jewellery design at the university's Duncan of Jordanstone College of Art and Design, she completed her Masters on a project at the university's Centre for Anatomy and Human Identification.
She has now been asked to apply her expertise to a historical case for  BBC1 series Murder, Mystery and My Family.
The programme sees two top UK barristers revisit historical cases where the victims were all hung for their crimes but went to their deaths still maintaining their innocence.
They use modern methods of investigation to determine whether the cases were miscarriages of justice or not.
Maria said: "The episode I appear on involves the murder of a woman who was thought to have been killed by her husband.
"She was photographed a few days before her death on a beach wearing a long chain. The chain was missing when the police recovered her body, but a very similar one was recovered from her husband's possession.
"Much of the court trial at the time focused on the debate as to whether this was the same necklace, or whether they were in fact, two separate, albeit similar, chains.
"A fellow expert in image enhancement and I teamed up to study the original photograph and jewellery, and discuss with the barristers as to whether we believe the case could have been a miscarriage of justice.
"The barristers then present their conclusions to a retired judge and to the family at the end of the episode."
Maris said because jewellery is "particularly personal" it can say more about an individual than other items, such as clothing.
She said: "It can define relationships between individuals and can symbolise a lot of cultural or religious beliefs.
"There are lots of dimensions that can give us clues.
"But we have to be quite careful that we don't make a lot of assumptions as it can be interchangeable."
Murder, Mystery and My Family will be screened on BBC 1 at 9.15am on Monday and will be available in iPlayer afterwards.