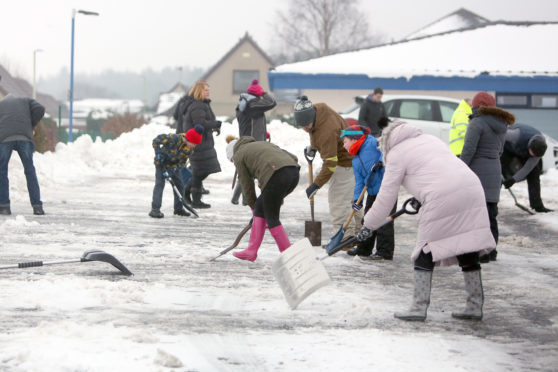 Dundee schools are expected to open again on Monday as the Beast from the East lessens its grip on the city.
Although there were sporadic snowfalls over the weekend, the cold weather created little disruption.
One bus got stranded on Glamis Road on Saturday morning but was freed and the road reopened within a couple of hours.
A statement released by Dundee City Council on Sunday night said: "All Dundee schools and nurseries will reopen on Monday.
"Forecasts predict a gradual thaw and public transport is expected to be running."
The High School of Dundee is also expected to be open. A tractor was used to clear snow from the school's playground on Sunday morning.
In Birkhill, volunteers helped shovel snow from the car park and paths around Birkhill Primary School.
Headteacher Natasha Hutchison thanked all those who helped clear the snow away.
She said: "The kids have loved being at home and have had lots of adventures but we're all desperate to go back to school."
Parents, pupils and other Birkhill residents all pitched in to help.
Residents of Birkhill and the adjoining village of Muirhead have used the snow as an excuse to indugle in some friendly rivalry.
A snowball match between the two villages was won by Birkhill while Muirhead came out tops in a competition to design the best snowman.
Players from Broughty United boys' football club also demonstrated plenty of community spirit.
With all matches postponed, players and coaches worked to clear paths and driveways of people who had been struggling to get out from their homes.
After their match was called off Although many shops and supermarkets ran low on supplies of items such as bread and milk, deliveries are expected to return to normal today.