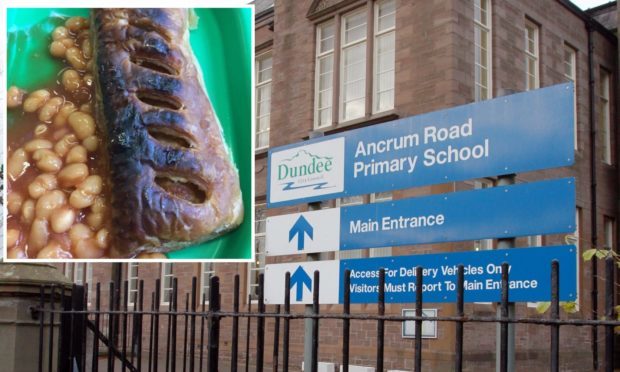 An investigation into the quality of school meals being served in Dundee primary schools has nearly concluded.
The standard of meals has come under the spotlight since a Dundee woman published a photo of the burnt sausage roll and beans served to her niece at Ancrum Road Primary School.
Lochee Labour councillor Charlie Malone then said he had been inundated with complaints from parents about the food their children are receiving.
However, he said there had also been praise for meals being served at other schools, prompting him to voice concerns that some schools were receiving better meals than others.
This was denied by Tayside Contracts, who said all food is prepared centrally and pupils are able to pre-order food from four different options.
However, Tayside Contracts launched an investigation into the food being served in schools.
West End Liberal Democrat Councillor Fraser Macpherson said he has now been told by Paul Clancy,  director of Dundee City Council's children and families services, this will conclude soon.
Mr Macpherson said: "I received complaints from parents following the serving to pupils of Ancrum Road Primary School what I consider to be a wholly unacceptable lunch last Monday.
"I asked the director of children and families service for an investigation of what happened to ensure this poor quality of meal is never served again.
"Pupils are entitled to a high quality nutritious meal every single day – there is no excuse for anything less."
Mr Macpherson said he did not believe some claims that children in deprived areas were being served poorer quality school lunches than those from more affluent areas.
However, he said that assurances about the consistency of high quality meals right across the school estate in Dundee was vital.
Mr Macpherson continued:  "I think it would be helpful if elected members were given copies of meal menus that Tayside Contracts provide at our schools and assurances and evidence of a consistent approach in terms of meal choice, meal size and quality across the city.
"He has agreed to do so and give councillors the detail of the outcome into the investigation of what happened at Ancrum Road Primary last Monday."
Last month, Dundee City Council's SNP administration voted to raise the price of school meals as part of their budget for 2018/19.
Mr Macpherson urged the city council to rethink this policy before the new prices take effect in April.
He said: "I have repeatedly said that the decision on school meal charge increases is socially regressive and fails to meet the goal of tackling social exclusion.
"Many other councils – including Glasgow, South Lanarkshire and North Lanarkshire – are taking steps to make school meals more accessible for school pupils and it is really disappointing that the budget passed by the SNP in Dundee does exactly the opposite."
"The administration group should find a way to reverse the school meals increase. The amount of funding required to do this is just £32 000 out of a revenue budget of over £356 million."