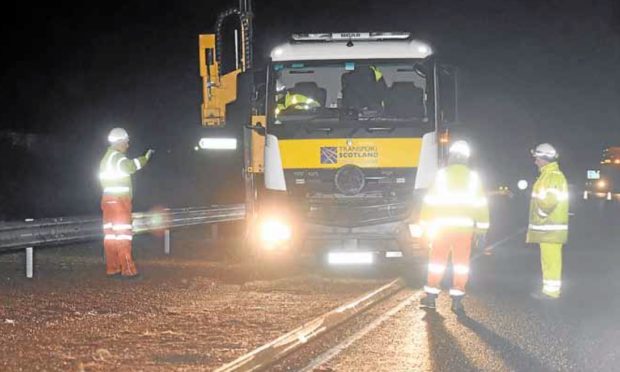 A monster pothole "as wide as the road" has forced more than a dozen motorists off one of the north-east's busiest routes.
Police Scotland confirmed it had received at least 20 calls from worried road users who had seen vehicles fall foul of the whopping crater on the A90 just north of Laurencekirk.
John Platt, from Hillside, was travelling south from Aberdeen to Montrose on the route at around 5.45pm and said even the most careful motorists were struggling to cope with the poor driving conditions.
"I saw a lot of cars slamming on the brakes and swerving into laybys – they all had burst tyres," he said.
"I also hit the pothole. It was so big, it was virtually unavoidable – it sounded like a gun had gone off.
"There were lots of damaged tyres and alloys and probably a lot of scared people, who are very luck this was not a pile up crash."
Recovery driver Kevin Godsman said he saw around 20 vehicles stranded on the sides of the road when he passed shortly after 6pm.
Meanwhile, Leigh Mears, from Fettercairn, said the pothole had ruined her tyre and her alloy "before I could do anything" but was pleased to have gotten home safely.
Other motorists such as Alison Kelly, Stuart Craik and Judy Towns also reported having their cars damaged on the route.
Social media users have called for answers with some suggesting compensation should be paid out to vehicle owners facing costly repairs.
A spokeswoman for BEAR Scotland said it had been "made aware" of the pothole and a team would be making temporary repairs.
She added: "There will be an inspection team looking at a more permanent repair on Tuesday and we will have a further update then."
A spokeswoman for Police Scotland confirmed operators had taken "at least 20 calls" in relation the incident and confirmed officers had been in attendance.
"We first started receiving calls at around 6.30pm in relation to a large pothole in the road around half a mile north of Laurencekirk on the southbound carriageway," she said.
The force was unable to give any further update on the condition of the road or whether officers had been called away from the scene.