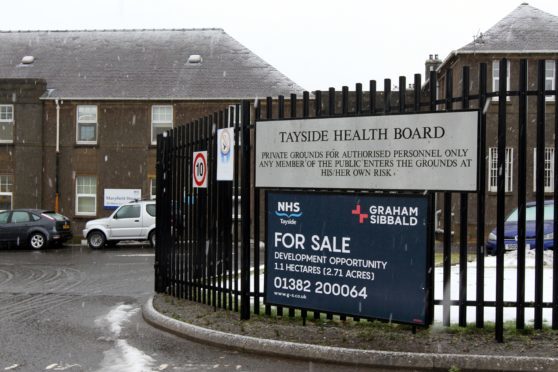 Hundreds of non-clinical NHS staff could be relocated next to Ninewells Hospital despite pledges to reduce parking demand at the site.
Health bosses have promised to find new ways to limit the number of car-owners using the facility after local residents complained about vehicles spilling out on to residential streets.
In a meeting with local councillors last month, NHS Tayside's chief operating officer Lorna Wiggin agreed to have a site masterplan carried out at Ninewells and said management are looking at moving services away to help alleviate the pressure.
However, staff have accused the health board of being "all talk" due to existing plans to move around 250 administration workers from Maryfield House on Mains Loan to the Mackenzie Building at Ninewells.
Employees — who currently park at Maryfield House free of charge — say they have been promised fewer than 80 parking spaces at the site, raising concerns the move could make existing overspill issues even worse.
West End councillor Richard McCready, who attended last month's meeting with Ms Wiggin, said he was disappointed the health board had not been forthcoming with the plans.
"I have major concerns about the continuing relocation and centralisation of services at Ninewells and it strikes me that support workers just do not need to be sited there," he said.
"I think this move totally flies in the face of promises given and I would call on NHS Tayside to rethink this."
The Courier understands staff were told this week that the move will go ahead, with cash-strapped NHS Tayside bosses describing the plan as "ideal" as it already owns the building and could move without the cost of finding new premises.
Baillie Fraser Macpherson, who also attended last month's talks, said he was "not convinced this is a sensible choice".
"What we want to see is less concentration on the Ninewells site and I think it makes no sense to move in more administration and non-medical staff," he said.
"I will be taking this issue up with Lorna Wiggin as I think it could exacerbate parking issues and the current overspill into West End communities."
North East MSP Bill Bowman called for an "effective transport plan which will ensure the admin staff don't have to use the limited parking available for the sick, visitors and medical staff."
"Two months ago I asked both the SNP health minister and the health board to begin meaningful discussion on the ethically indefensible parking charges at Ninewells," he said.
"The silence has been deafening. Shona Robison is yet to intervene and I call on her to do so, yet again."
An NHS Tayside spokeswoman confirmed non-clinical staff based at Maryfield House will be moved to "appropriate alternative premises" as part of an ongoing property strategy to drive down maintenance costs.
She added: "Options for alternative premises, which includes the Mackenzie Building on the Ninewells Hospital site, are still being considered as part of the strategy and we will continue to work closely with staff to keep them informed."