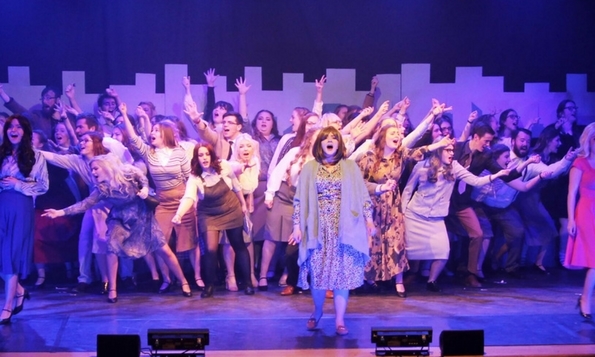 The Dundee University Operatic Society own the stage once again, with their hilarious production of 9 to 5 The Musical.
Dundee Opsoc, currently in their 55th year, have been putting on high-quality performances since 1963, all on a student budget. I've been lucky enough to see their last seven shows, all of which have been performed to a very high standard, so have come to expect a certain level of professionalism from this talented bunch. 9 to 5 did not disappoint!
9 to 5 The musical is based on the 1980 film of the same name, starring Lily Tomlin, Jane Fonda and Dolly Parton herself. The show tells the story of three strong-willed women from very different backgrounds, who unite to achieve a common goal: to take down their "sexist, egotistical, lying, hypocritical" boss – a topic that is particularly relevant today, with anti-sexual harassment movements such as "Time's Up" making regular headlines.
It's 7.30pm in the Bonar Hall. The stage is lit up beautifully, emblazoned with the 9 to 5 logo, and the audience is buzzing for the performance to come. This is when OpSoc experienced the most unfortunate start to a show I've ever seen: the fire alarm went off. 25 minutes and several checks later, we're allowed back into the hall and ready to go once more.
This show certainly doesn't skirt around the fact that it was written by Dolly Parton – with the performance opening with a welcome from the woman herself. This is swiftly followed by a showstopping version of the 9 to 5 performed by the full cast – who didn't let the initial interruptions throw them off at all. From there, we are thrown into a busy office environment and introduced one by one to our lead characters, complete with gorgeous vocal support from the chorus and excellent choreography produced by Rachel McDaid.
Calum Shiels perfectly portrays the sleazy, repugnant boss Franklin Hart Jr. in his number "Here for you" and the three leading ladies dazzle us with stunning three-part harmonies (with strong support from the ensemble) in "I Just Might" and what was probably my favourite song in the show, Act 1 closer "Shine Like the Sun".
In the act 2 number "Change It" we really see Rowena Weir come into her own as Doralee Rhodes. There's absolutely no doubt as to why she was cast as the "Dolly" role as she absolutely embodies her in both voice and character. With gorgeous country vocal riffs and a kick-ass southern accent, it really was a fantastic and believable performance.
However, she was not the only shining star in this production: Melissa Bremner gave a flawless performance as uptight widow Violet Newstead – her song "One of the Boys" with the male ensemble was one of the most entertaining of the night. Daniella Karaoglan also wowed the audience with a very sweet portrayal of Judy Bernly, giving us raw emotion and beautiful vocals in "Get Out and Stay Out". Shout-outs should also be given to Jack Bruce and Ellen McBride, who despite only being cast in ensemble roles, were both absolutely hilarious and left lasting impressions.
9 TO 5 THE MUSICAL!Our trailer is here so get #hyped for another amazing OpSoc show! With music by Dolly Parton and an extremely talented OpSoc cast, you know that this show is going to be the best 'Around Here' on campus and in Dundee! So, go to opsoc.ticketsource.co.uk NOW to buy your tickets – they'll be gone faster than you can say "Tumble outta bed and I stumble to the kitchen!"

Posted by Dundee OpSoc on Monday, 5 March 2018
Overall, OpSoc and their director Neil Lavin have done a phenomenal job putting this show together. 9to 5 will make you laugh, cry and want to get up and dance all at the same time. With strong performances all round and excellent work from the production team & stage crew, this is a must-see for any musical theatre lover in the area.
OpSoc's production of 9 to 5 the musical is running nightly at 7.30pm from the 7th – 10th March 2018 at the Bonar Hall. Tickets are available to purchase online here, at their ticket stall outside Dundee University Students Union or on the door at the Bonar Hall.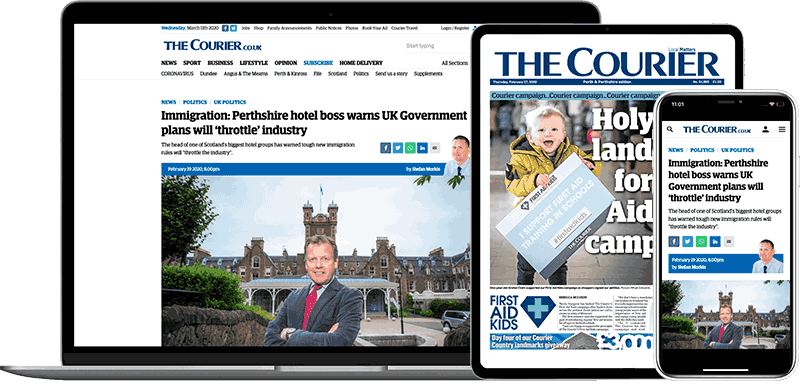 Help support quality local journalism … become a digital subscriber to The Courier
For as little as £5.99 a month you can access all of our content, including Premium articles.
Subscribe