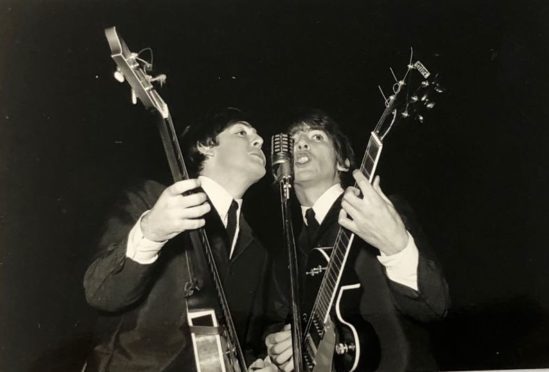 Rare photographs of The Beatles performing in Dundee in 1964 are expected to sell for thousands of pounds when they go under the hammer later this month.
The photographs and negatives, which are being sold with full copyright, contain candid images of the Fab Four being before and during their October 20 gig at the Caird Hall.
They are expected to sell for between £4000 and £8000.
The photographs were taken by Dundee based professional photographer Winnie Forbes-Cochrane.
They are up for sale alongside a black and white cine film of The Beatles during their stay at the Four Seasons Hotel in St Fillans on the banks of Loch Earn during their 1964 tour.
The film is expected to fetch around £4,000.
Both items are being sold at a specialist Beatles auction by Omega Auctions in Merseyside on  March 24.
The Beatles first played in Dundee in 1963 and returned to the city a year later when they performed in front of 6,000 screaming fans.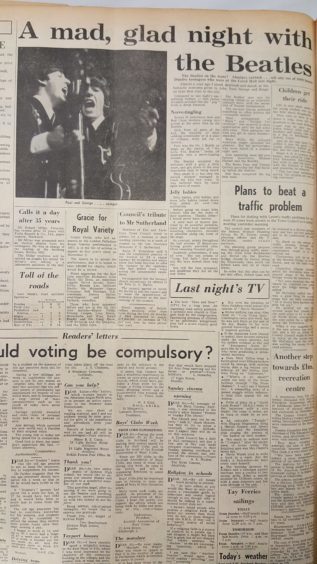 The Courier's report from the day after the concert said: "Almost a year ago I stood deafened and dazed, at the fantastic welcome given to John, Paul, George and Ringo on their first visit to the city.
"Compared to last night's ear-splitting bedlam that earlier occasion sounded like the 'pop' from a damp firework."
"As McCartney first graced the stage, the noise levels rose to deafening and 'nerve-tingling' proportions."
The report said "scores" of paramedics were called into action to help collapsing fans while songs like She Loves You and Love Me Do could only be heard by fans in the first few rows.
"Girls from all parts of the hall, the majority of them sobbing ecstatically or in a state of collapse, were led out to recover. The final tally of the casualties was 50," the report stated.
The unnamed writer added "40 powerful stewards" lined up along the front of the stage to protect the band while another "35 Beatle protecting giants patrolled the aisles. Often reseating frenzied girls."
The previous day's paper had included a message to readers in Dundee from John Lennon.
It said: "Hi Jocks! Delighted to be back in awricht-the-noo's-ville. Looking forward to meeting you all in the Caird hall tonight. Thanks for all your Hiela' support. Och aye the noo, from Jock MacLennon."
At the time The Beatles were at the peak of their powers, and had returned to Dundee after playing shows extensively throughout Britain and America.
The band only performed live in Scotland one more time after the Caird Hall show, when they took to the stage of the Odeon in Glasgow in December the following year.