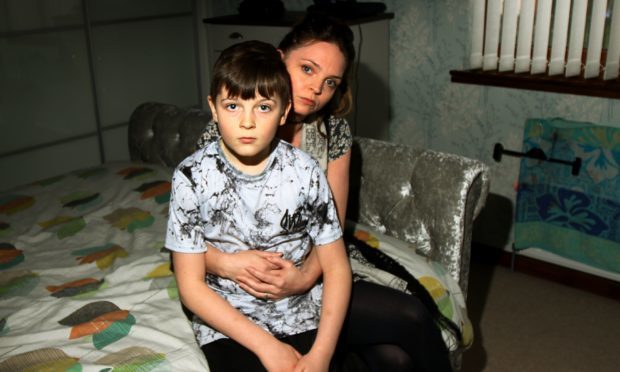 A Dundee mum has described the terrifying moment she barricaded herself into her bedroom with her child after a man broke into her home.
Kara Mitchell was woken up just after 5am on Saturday by the noise of the patio doors being smashed at her house at Barns Neuk, Emmockwoods.
The intruder made off with a handbag, a purse containing £100, a set of house and car keys and a kitchen knife.
Kara and her son cowered in her room and raised the alarm while the thief ransacked their home.
Her husband, Davie, said the raider appeared to have used a tool such as a crowbar to force entry.
"I started hearing noises and initially I thought it was just with the wind, maybe the doors banging," said Kara.
"I then heard a bang and the footsteps and my living room door closing.
"I got out of my bed and woke my 11-year-old son up, then put my bedside cabinet against the door as I heard someone coming upstairs.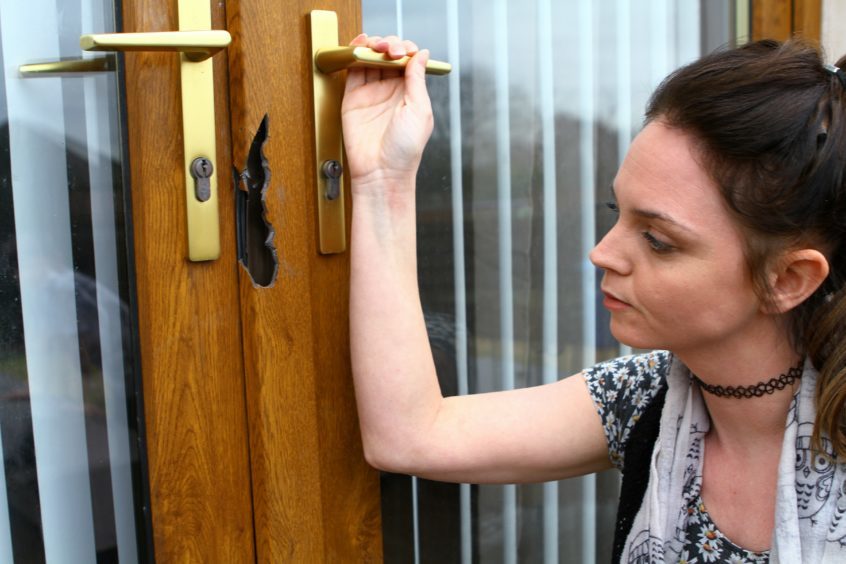 "My son was crying loudly and I shouted for him to stop crying as I was phoning the police.
"I actually phoned my mum first and he must have heard me on phone and ran out the house, although he was in there for a good 20 minutes.
"Once I phoned my mum we called the police and once my mum arrived I came out of the bedroom."
When she went into the living room, Kara saw that the patio doors were burst open and badly damaged.
Her house keys and car keys were gone, along with her hand bag and purse.
A large, green bread knife from a set of kitchen knives had also been taken.
The incident was recorded on a neighbour's CCTV, which filmed a man arriving at 2.58am,  parking a black car in Barns of Claverhouse Road  and trying handles on cars, garages and front doors.
He was dressed in black with black and white trainers.
On the footage he is seen going back and forward for the next two hours.
A police spokesman said: "Officers are investigating the possibility that the person responsible may have been in the area for some time, and we would ask anyone who saw or heard anyone acting suspiciously in the area that morning to contact us.
"If you have any information that may assist our investigation, please call 101 or speak with any police officer."
Calls can also be made to Crimestoppers on 0800 555 111.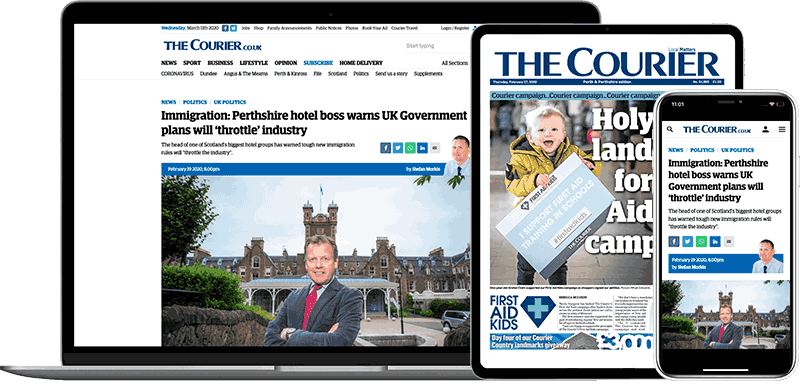 Help support quality local journalism … become a digital subscriber to The Courier
For as little as £5.99 a month you can access all of our content, including Premium articles.
Subscribe