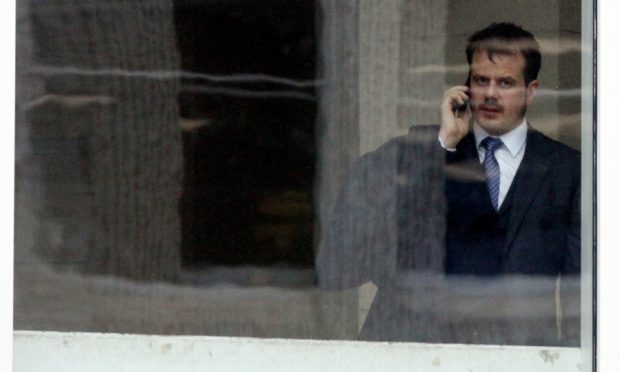 A former SNP councillor and one time "rising star" has been found guilty of sending abhorrent racist abuse to a Muslim woman.
Craig Melville – whose election in 2009 swung the balance of power on Dundee City Council in favour of the SNP – sent racist messages to fellow party worker Nadia El Nakla in the wake of the Paris terrorist atrocities in 2015.
He strenuously denied sending the messages, maintaining his "innocence" throughout the trial at Dundee Sheriff Court.
Melville and Ms El Nakla – who is a case worker for Dundee East MSP Shona Robison – had been in an extra-marital relationship since April 2014.
Their relationship started in the Dundee SNP office on Old Glamis Road, once shared by Ms Robison and her ex-husband Stewart Hosie MP – who employed Melville as a case worker.
Melville sent Ms El Nakla threatening messages over a two day period in November 2015, in the wake of an attack at the Bataclan theatre in Paris in which 130 people lost their lives.
In one, he said: "If I had a gun I would shoot a Muslim, but I am not brave enough."
Another said: "It's not personal, I just hate your 
religion and I will do all in my life to defeat your filth."
His "drunken" deluge of messages, containing derogatory and threatening remarks against people of the Islamic faith, continued over the course of the weekend.
Ms El Nakla, who identifies as a Muslim, told the court she had been upset by the language and showed the messages to colleagues the following Monday.
Glenrothes councillor and depute Provost of Fife  Julie Ford, another case worker for Shona Robison, told Thursday's trial she had advised Ms El Nakla to show them to their employer.
Asked how Ms El Nakla had behaved while sharing the messages, she said it was hard to recall.
"She did seem agitated but I can't really remember anything else," she said.
Defence solicitor Douglas McConnell said Melville's career had been ended by the accusations of racism and he had been forced to leave politics and become a personal trainer.
He said: "This case has had significant effect on his life and family.
"He was destined for a career in politics and this case has stopped that for good.
"He has had to leave Dundee and the career he built up and his friends.
"This case has been no good for anybody.
"He has had to deal with intrusion into his privacy.
"These were private messages between two people in a relationship.
"Ms El Nakla's reaction was to speak to him and then the matter was done.
"He is a young man whose career has been ended because of private messages he has sent.
"He is trying to raise a young family."
Sheriff Pattison thanked Mr McConnell and fiscal Joanne Smith for their submissions, before ruling there was sufficient evidence that the messages were of a threatening and abusive nature.
Melville, of Marlee Road, was found guilty  of making threatening, derogatory and abusive remarks regarding Muslims to Nadia El-Nakla via text message between November 13 and 15 2015.
He was fined £1,000, £250 of it because of the religious prejudice which motivated his actions.
Melville was suspended from the SNP on January 16 2016, when the messages first came to the public's attention.
He resigned from his position as a councillor and from the party on February 5 2016.
Melville remained on full pay while suspended in his role as a case worker for Stewart Hosie MP.
An SNP spokeswoman said: "The SNP condemns Islamophobia in the strongest possible terms and we will not tolerate it in our party. Craig Melville was suspended from the SNP and from his employment immediately."
Melville was approached for comment after Thursday's verdict, but declined.