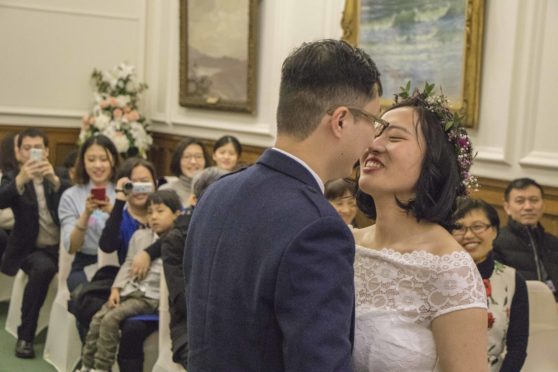 A pair of Dundee University students had family travel more than 5,000 miles to join their celebrations as they got married in the city.
Yuting Ling, 28, and Kanheng Zhou, 27, came from China to study biotechnology, and tied the knot in the city's Registrar's Office on Friday.
They said "I do" surrounded by their friends and family, many who had travelled more than 5,500 miles from Shanghai and the nearby city of Nantong, where the couple are from.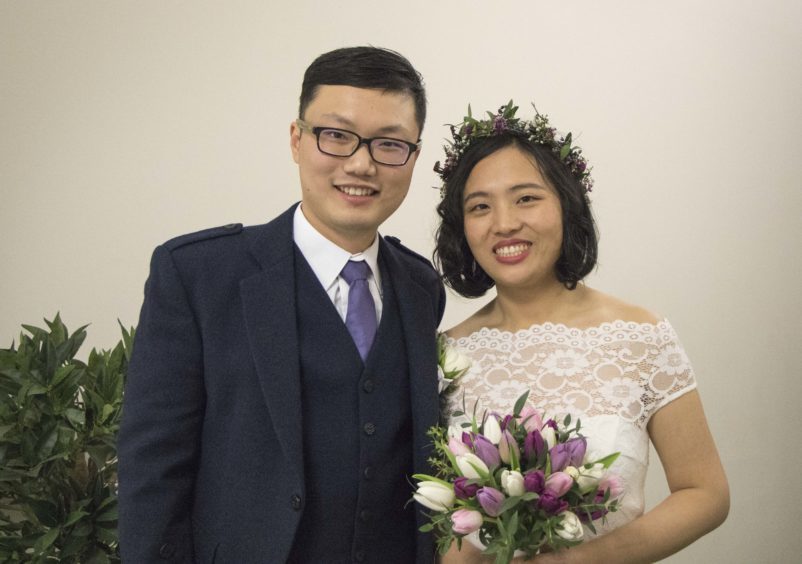 The couple met as PhD students at the university's School of Science and Engineering and are two of more than 800 Chinese students currently studying at Dundee.
While both are scientists by nature, the bride said that it was more of a mysterious force that brought them together.
"I didn't expect to meet my husband in a lab in Dundee but sometimes these things happen," she said. "If I hadn't done my PhD then I wouldn't have met him so maybe it was fate."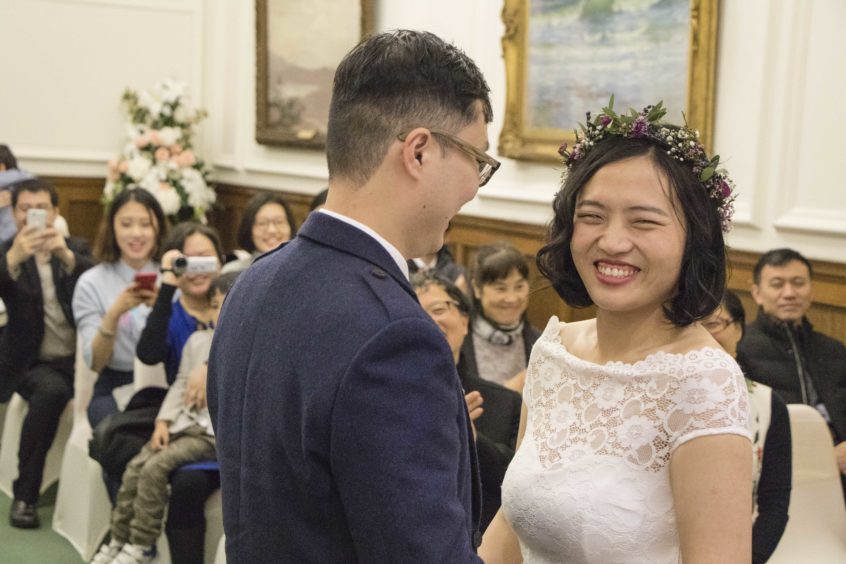 The duo, who are undertaking PhDs in Biomedical Engineering in Optical Coherence Tomography, said it took around a year for the relationship to get off the ground after initially meeting in class in 2015.
Having dated for little more than a year, however, the couple got engaged in December, deciding swiftly to get hitched in Dundee.
Expressing his love for his adopted homeland, Kanheng wore a kilt for the day, with the couple also incorporating a Celtic handfasting into their wedding ceremony.
Keen to emphasise how happy their time in Dundee has been, he said: "We're in Scotland and wanted to do something traditional.
"The people here are very nice and the views are lovely, particularly when you stand up at Dundee Law at night and watch the lights of the city.
"I like photography as well so sometimes we would go for a drive together to see the meteor showers."
Any plans for a honeymoon are currently on hold, with the couple set to spend their first year of marriage on separate sides of the globe.
Kanheng has agreed to participate in a year-long study exchange programme at the University of Washington in Seattle, so will leave for the United States in a fortnight.
But with her new husband set to return to Dundee in time to graduate next summer, Yuting said that the couple have plenty of time to enjoy married life in the future.
"I'll be busy with work so the time will fly by," she added.
"There's a sentence in Chinese that means a short time apart will make it feel like a new marriage so it's going to be exciting."