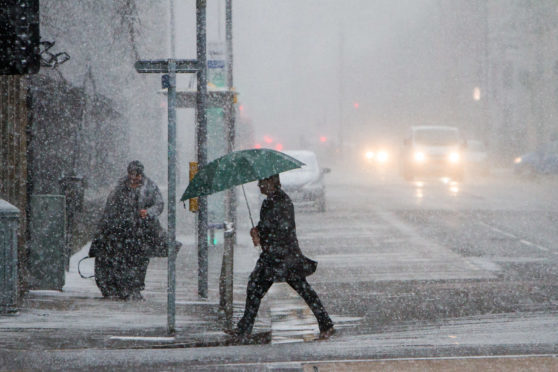 Tayside and Fife are expected to escape the worst of the latest extreme weather forecast to batter much of the country this weekend.
There are still yellow warnings in place for snow and wind across the region until at least Sunday morning, however.
Dubbed a "mini beast from the east", the Met Office has issued an amber warning for parts of England, which could see up to four inches of snow fall as temperatures tumble.
If there is to be any snow falling on Tayside and Fife, the worst of it will be on Saturday night into Sunday morning. Some roads and railways are likely to be affected, the Met Office said, with longer journey times by road, bus and train services possible.
Met Office meteorologist Mark Wilson said: "The best way to describe this is as a real return to wintry conditions.
"The last couple of days have been quite mild across parts of the UK – we got to around 16C yesterday in Wales – but by tomorrow all of us will be back to very cold weather.
"Bitterly cold is the best way to describe it – temperatures on the face of it probably just around freezing, but with wind it's going to feel well below freezing."
An amber warning for snow and ice has been issued for the Midlands, Yorkshire, London and the north-west, south-east, and east of England between 4pm Saturday and 9am Sunday.
With spring supposedly around the corner, temperatures should be getting back to average for the time of year by Tuesday.
Meteorologist Martin Bowles said the weekend's weather could be dubbed a "mini beast from the east".
He said: "We don't expect anything like the same impact as a result of it, although there will be some snow about."
The Met Office warnings for snow and ice begin at 6pm on Friday for eastern Scotland and England, and run into all of Saturday, where almost the entire country is included.
Sunday will be a similar story, with snow and ice expected across the UK.
The warnings state that travel disruption is possible, rural communities could become cut off, vehicles may be stranded and power cuts may occur.