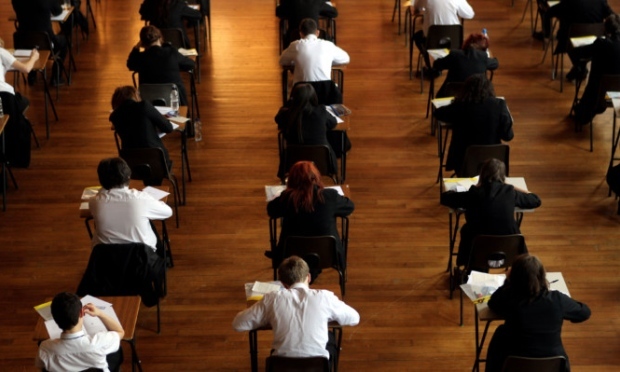 Dundee has the worst record in Scotland for Highers pupils achieving their potential, according to new analysis.
The city ranked bottom when exam scores were compared with government expectations, which takes into account factors such as deprivation.
None of the local authority areas in Tayside and Fife met the SNP administration's official benchmarks.
Dundee's council leader said the city's education performance cannot be judged on just one measure, adding record levels of city pupils are going on to higher education.
The Highers analysis by The Times compares the results a particular area is expected to achieve based on local characteristics, known as the comparator benchmark, with the actual scores.
The average difference between expected and confirmed results was -5.9% in Dundee, the lowest in the country.
That compares with Angus (-0.5%), Perth & Kinross (-0.9%) and Fife (-2.7%).
The best-performing was East Renfrewshire, whose performance was 11.7% higher than the comparator level.
At Dundee's Braeview Academy, 12% of students achieved at least five Highers at level six or above.
The comparator benchmark, which factors in deprivation and gender, said that 27% should do so, which at 15% is the widest gap in Tayside and Fife.
St John's was the only secondary school in Dundee doing better than expected.
Jenny Marra, the Labour MSP, said the latest data shows there must be an overhaul of the council's education strategy if children are to reach their potential.
"Dundee's education chiefs cannot continue to do more of the same," she said.
John Alexander, the SNP leader of Dundee City Council, said there are record levels of young people going on to positive destinations.
"The city's schools are engaged in an ongoing drive to close the attainment gap and this is providing support to children who face extremely challenging circumstances," he said.
"The council uses a wide range of data, not just one measure, to evaluate progress and to identify areas for improvements.
Countering the accusation the local authority area has performance issues, he said: "We would not describe our schools as 'underperforming' on the basis of one measure, examined for one year."
It follows a row between a Labour MSP and the SNP leader of the council over comments made by the city's education convener.
Gregor Murray, the SNP councillor in charge of schools, was accused by Ms Marra of writing off children by saying some children will struggle "no matter how much we improve education".
Mr Alexander said that is a statement of fact, but added the council is also tackling poverty and other challenges to give everybody the same opportunity for academic achievement.
The comparator benchmark has been hailed by the government as the fairest way to assess education performance in areas, because it takes into account socio-economic factors.
But a Scottish Government spokesman: "We don't agree with how this data is presented.
"Our national level data shows that standards are moving in the right direction, although there are still variations in performance in different schools in different parts of the country."