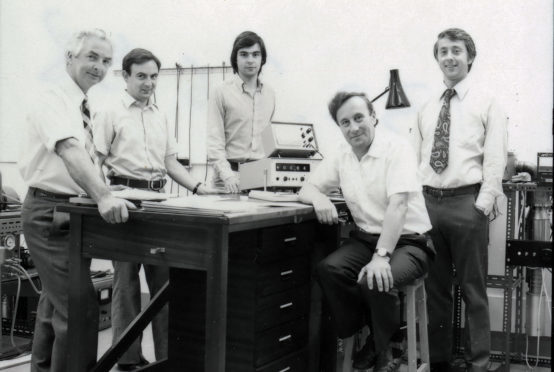 Dundee engineers whose work pioneered the development of technology ubiquitous in televisions and smartphones are to be recognised by the world's largest technical professional organisation.
Professors Walter Spear and Peter LeComber spearheaded Dundee University's engineering laboratories in the 1970s and 80s.
Their work with amorphous silicon – which was, according to the pair, entirely curiosity driven – was instrumental in the development of Liquid Crystal Displays (LCD), a component of almost every smartphone and flat screen television on Earth.
The Institute of Electronic and Electrical Engineering (IEEE), an American-based technical profession regarded the world over, have recognised the importance of their work with a mile-stone plaque at the same laboratories the pair conducted their ground-breaking experiments.
Professor Iain Stewart, dean of the school of science and engineering at Dundee University, said their work was some of the most important the institution has ever produced and that it was right the pair were being recognised for it.
He said: "The innovations they made included the creation of the amorphous silicon thin film transistor which led directly to the development of Liquid Crystal Display technology.
"This allowed the development of the technology which we use on a daily basis around the world in flat screen televisions and mobile devices.
"Theirs was some of the most impactful work produced at a UK university and this international recognition is well deserved."
Their cutting edge work was driven by a fascination in the potential of solidified gases and their ability to act as electrical conductors, which led them to investigate further properties of amorphous silicon.
Along with a research team they developed new techniques in harnessing the "non-crystalline" element, which demonstrated how the substance could be used.
This started a revolution in the field, making inexpensive silicon based thin film electronic devices possible.
Following up their initial research, they developed the amorphous silicon thin film transistor, which is utilised in almost every laptop and smartphone currently in use.
Professor Spear received the European Physical Society Europhysics prize in 1976 and the Max Born Medal and Prize for Physics in 1977.
Professor LeComber held co-patents on 10 inventions and published more than 170 papers on engineering, before his untimely death in 1992.
Their plaque was unveiled during a special ceremony at Dundee University on Thursday afternoon.