An 18-year-old autistic drumming prodigy is hoping an online funding appeal can keep his dream of studying jazz at a prestigious US college alive.
Ciaran Roberts-Osterberg, from Broughty Ferry, has been offered a place at Berklee College of Music in Boston and won a $13,000 dollar a year scholarship to study in Massachusetts.
But his annual fees will come to $44,000 before living costs have even been taken into account.
Former Grove Academy pupil Ciaran can defer entry for a year but must let Berklee know by May if he intends to accept the place.
Given the astronomical fees involved, his mother Christina has set up an online crowdfunding appeal which she hopes will  help meet the costs of her son's tuition and living costs.
Ciaran was born with a kidney and bladder condition and almost died as a baby.
Bullied as a youngster, he found an escape through music and now teaches jazz drumming at  Dundee Jazz School.
He is also a former youth ambassador for the Royal Scottish National Orchestra.
Christina said: "Ciaran is a drummer but he loves jazz.
"He is autistic so can be quite compulsive about things. When he discovered his love of jazz he did a lot of research and learned that Berklee had produced some of the finest people and that's where he set his heart on.
"Ciaran just found out he won a place a week ago and has won a $13,000 a year scholarship but Berklee says the total costs a year, including tuition and living costs, comes to about $70,000 so it is a crazy amount of money."
Christina said fundraising is off to a good start and hopes more people will help Ciaran fulfil his dream.
She said: "We only put the fundraiser up this week and already have £880.
"It's fantastic but still only a drop in the ocean."
Some of the biggest names in music across a range of genres have graduated from Berklee including Quincy Jones, Donald Fagan and Annie Clark, better known as St Vincent.
The crowdfunding appeal can be visited at www.gofundme.com/against-all-odds-accepted-to-uni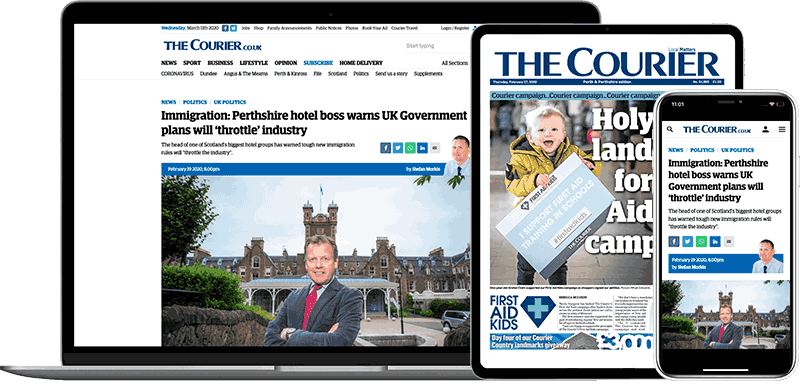 Help support quality local journalism … become a digital subscriber to The Courier
For as little as £5.99 a month you can access all of our content, including Premium articles.
Subscribe