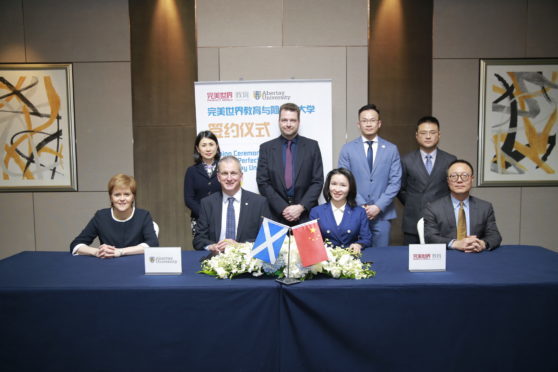 The First Minister Nicola Sturgeon was on hand to see the signing of a deal between Abertay University and a major Chinese entertainment company.
The Dundee university – recently named as the best institution in Europe to study games design – has agreed a 10-year partnership with Beijing-based games company Perfect World.
Abertay will deliver a new post-graduate degree programme in the Chinese capital  – an Executive Professional Masters in Games Development (e-MProf) – as part of efforts to strengthen bonds between the two countries.
The course will allow for 100 China-based students access to Abertay's degree programme and will, hopefully, deliver further business, academic and research opportunities between Scotland and the Asian continent.
Abertay enacted a similar partnership with Perfect World in 2016, which introduced a joint teaching programme between Scotland and China.
Ms Sturgeon witnessed the signing of the "historic" deal during her visit to China, as part of the Scotland Is Now event organised by Scottish Enterprise and Scottish Development International in Beijing.
Principal and vice-chancellor of Abertay University, Professor Nigel Seaton – who was also in China for the partnership signing – said the institution was looking to share its expertise in games across the globe.
He said: "The extension of this fruitful partnership between Abertay University and Perfect World opens the door to another level of collaboration, benefitting academics, students and business alike.
"Over the next ten years, we look forward to expanding this relationship, exploring together opportunities for the development of academic programmes and research in the area of computer games.
"Today's launch of the new work-based e-MProf programme for computer games professionals in China is another key milestone for Abertay, as we seek to share the benefits of our internationally-renowned academic expertise."
Ruby Wang, chair of Perfect World Education, said the cooperation between the two parties was an ideal fit.
She said: "Both Perfect World and Abertay University are strong in their respective fields, have a consistent educational philosophy and complementary resources.
"Prior cooperation has established a successful model for Chinese and British game education and we hope that extending this partnership will produce more fruit in the field of game education and cultural exchanges.
"We will use this as an opportunity to promote closer exchange between China and the United Kingdom in education, talent, and culture."