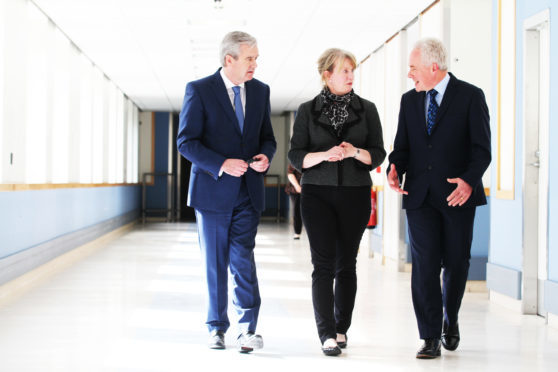 Shona Robison has rejected calls for her to stand down as health secretary and said there are no plans to merge NHS boards.
The Dundee City East MSP said she is "getting on with the job" after Labour health spokesman Anas Sarwar repeated calls for her resignation following revelations of financial mismanagement at NHS Tayside.
The board has required loans from the Scottish Government, known as brokerage, to balance its books for several years.
New NHS Tayside chief executive Malcolm Wright with Shona Robison.
The crisis deepened last month when it emerged £5.3 million of money intended for eHealth funding had been used to make the board's deficit look better. It was then revealed that in 2014 money from NHS Tayside's charitable endowment fund had been used to pay for a new IT system.
This prompted Ms Robison to call for former chairman Professor John Connell to resign, which he did last week. She also said chief executive Lesley McLay, who is now absent from work, was in an "untenable" position.
Ms Robison said the new management team at NHS Tayside of chairman John Brown and chief executive Malcolm Wright have the right "skill set" to restore confidence in the health board.
She said: "They'll need time to make sure they can come forward with a credible plan that has the confidence of the board, staff public.
"Those discussions will be ongoing but the message I've given is we will support the board."
Ms Robsion said Mr Brown will also make recommendations to her on strengthening governance and scrutiny procedures across the NHS in Scotland to ensure charity money cannot be mis-spent again.
But she said Board members present when the decision to raid the endowment fund was made should remain in post – for the time being at least.
"I think the most important thing here is to allow John and Malcolm to take things forward," she said.
"They will be looking at the skill set of the board and these will be decisions for them but I think we need to bring some stability to the board. The message I gave was that everybody around that table had a role to play in moving NHS Tayside forward.!
Ms Robison added that while she wants to see greater cross-board co-operation there are no plans to merge health boards, as her predecessor Alex Neil suggested should happen.
She said: "What we've said is we want boards to work across boundaries on a regional basis.
"I think that's the best way to move forward because if we focus on structural change that would consume everyone's time and attention and, frankly, NHS Tayside needs to give their time and attention to the issues that have been raised around governance and financial stability. Getting NHS Tayside back on track and raising public confidence should be the focus.
"There will be a regional structure that will be an important part of the governance arrangements in Scotland but there is no plan to disband the boards in their current form.
"But there is a challenge that health boards have to get away from lines on maps. They have to get away from board boundaries and look at how they can deliver services across those boundaries."
Ms Robison denied she had refused to take responsibility for the financial crisis afflicting NHS Tayside and said she has no intention of stepping down.
She said: "I've never washed my hands of NHS Tayside or any other health board. What I've done is to support Boards to try to help them to move forward.
"The opposition will say what they say. That's their focus and their priority. My priority is helping NHS Tayside and all of the other boards to move forward.
"Governance issues that have dogged NHS Tayside need to be dealt with and will be dealt with. I'm getting on with the job. "
Mr Wright said a plan on restoring NHS Tayside to financial health would be published in a few weeks. And he said decisions made by the previous board regarding services would stand.