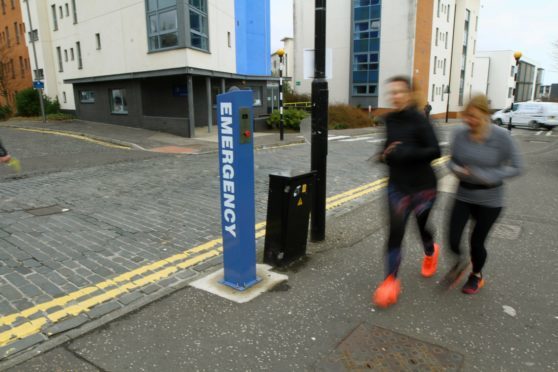 Emergency alert points have been put in place across Dundee University as part of measures to improve security.
The six poles have been put in place at "hot spots" on the campus so staff and students can call for assistance if a situation arises.
The devices, monitored 24 hours a day, have been introduced  in consultation between security staff, university management and the student's union.
Each pole has a camera installed and provides two-way communication between the caller and security teams.
A member of security will go to the aid of anyone who feels threatened and CCTV cameras will keep watch until help arrives.
The university said the equipment was "an investment towards ensuring the safety of everyone on campus".
The move follows a series of self-defence classes held at the end of last year after a number of  assaults in the campus area.
The student executive arranged three classes run by the Dundee University Self-Defence Society, which were overseen by a qualified instructor.
As part of a drive to enhance student and staff security, the university also operates a free night bus from the Union nightclub and university libraries free of charge.
The university has also collaborated with local company Tele Taxis, which offers a "ride now pay later" service if the night bus is too busy.
Students hand over their matriculation cards to drivers, who take them back to the university the next day so a payment can be made.
A spokesman for Dundee University said: "Our new assistance points allow students, staff and visitors to the campus to make instant contact with our security team, 24 hours a day, should they require help for medical, security or any other reasons.
"These are an investment towards ensuring the safety of everyone on campus. To date, six separate assistance points have been installed on campus.
"Four were placed on the most common routes students use through campus, with their location decided following consultation with DUSA, while a further two have been installed in staff parking locations.
"These provide instant two-way communications with our security team and immediately dispatch a security response upon activation.
"The user is able to stay in constant communication under video surveillance until members of our team reach them and are able to assist."