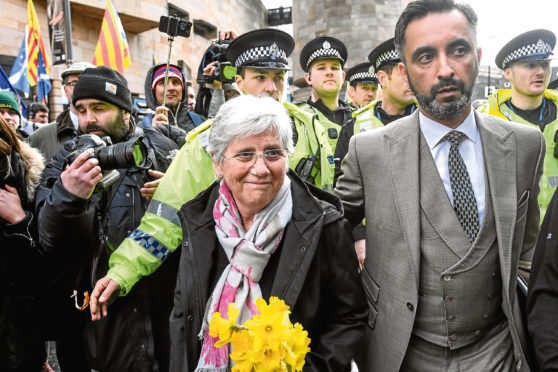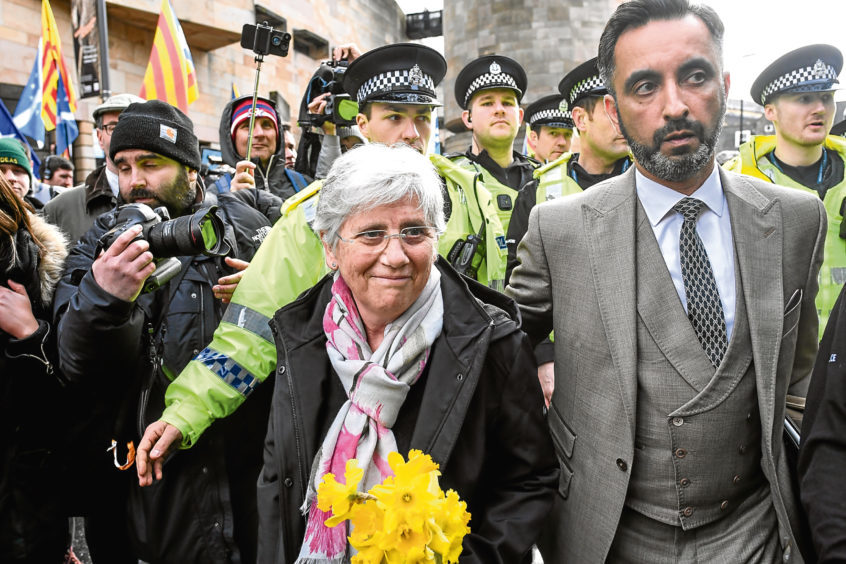 A St Andrews professor fighting extradition to Spain for her role in Catalonia's independence bid is to appear on stage at a special Dundee performance of Alex Salmond Unleashed.
Clara Ponsati, who previously served as Catalan education minister, will star alongside her lawyer Aamer Anwar in the former First Minister's end-of-run show at the city's Caird Hall on April 27.
Prof Ponsati faces charges of rebellion and misappropriation of public funds in Spain and is expected to learn her fate following a two-week hearing at Edinburgh Sheriff Court starting on July 30.
Another preliminary hearing is set for May 15 at the same court.
Mr Salmond, who was ousted as MP for Gordon in June's snap election and has since faced criticism for his role with Russian state broadcaster RT, said he was "looking forward enormously" to the Caird Hall show.
"Clara Ponsati has captured the heart of the nation as she battles against extradition to Spain and this is a marvellous opportunity for people to hear directly what she has to say, ask her questions and rally to her support," he said.
"The 28 performances to date have raised £30,000 for charities both domestic and overseas. In these final two dates we will be supporting Clara's defence fund.
"There are just a few tickets left for the Caird Hall and we have put on the additional performance in Edinburgh to make sure that people have the opportunity to hear Clara speak."
Spanish judges re-issued a European arrest warrant last month for Prof Ponsati and other former Catalonian ministers, following the unsanctioned referendum in Catalonia and the regional government's declaration of independence.
The arrest warrant states that the more serious crime of rebellion applies to those "who revolt violently and publicly" for purposes including "declaring the independence of a part of the national territory".
Mr Anwar said Prof Ponsati "completely refutes the charges" and has "never committed a criminal act in her life".
He added that if she is convicted, Prof Ponsati could face up to 33 years behind bars, "thus facing the real prospect of spending the rest of her natural life in prison".
Mr Salmond will also be joined at the show by Dundee's Gaelic Choir, the city's own Sheena Wellington, a traditional Scottish singer, and house band the Carloways.
They will perform at the show for the first time since the untimely death of guitarist Chris Paterson, from Perth, last month.